Skyrocketing Sales Could Hurt Luxury Car Makers
The race for sales could be taking the shine off luxury manufacturers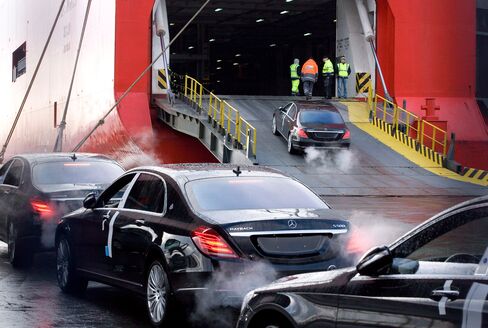 Chalk it up to cabin fever, a burgeoning economy, or the dulcet drone of Mercedes pitchman Jon Hamm. Sales of German luxury cars have never been better.
In the first three months of the year, Audi, BMW, and Mercedes sold 1.3 million vehicles worldwide, 9 percent more than in the year-earlier period. The Teutonic bragging rights stayed with BMW. It sold almost 451,600 vehicles around the world in the first quarter, besting 438,200 at Audi and 429,600 for Daimler's Mercedes Benz brand. Records were broken all around.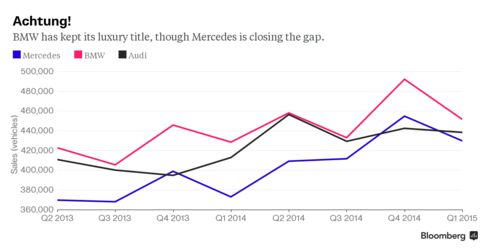 The whole exercise is a bit silly. Talking about volume without strapping it to profit is like spouting the specs of an engine without mentioning the size of the vehicle in which it sits. But this is the auto industry. Underneath every Hugo Boss suit in the C-suites of Munich and Stuttgart is a person who simply loves to go fast, preferably on the autobahn en route to a screening of Furious 7. Steering is critical, but speed is king.
Despite a rising tide of buyers, BMW, Mercedes, and Audi seldom talk about raising prices, and chatter about keeping costs in line is usually tacked onto the end of corporate communications. Usually, the companies simply crow about performance metrics and volume gains. And each of the German-based luxury players appears dead-set on being the luxury leader, in terms of units.
Massive sales gains, however, present tricky terrain for a luxury brand. In addition to the pitch-perfect engine, baby-soft seats, and a fancy hood badge, the appeal of a German-born luxury car, at least in part, is prestige: the air of exclusivity. After all, these things aren't iPhones, or even Apple Watches. It takes years of striving—or, at least, a catchy idea for a new app—to get into one.
That little cocktail of pride and prestige loses some of its intoxication every time one of these cars rolls out of a dealership. "The issue in luxury is people don't always want the No. 1-selling vehicle," says Lara Koslow, head of the consumer and customer insight center at Boston Consulting Group. "They don't want to be one of many; they want to be one of few."
To get numbers up, Audi, BMW, and Mercedes have steered towards slightly less tony parts of town. Each automaker now has an entry-level model priced around $30,000 in the U.S. (Daimler Chairman Dieter Zetsche calls them "conquest cars.") When one opts for a lease instead of purchase, as slightly more than half of entry-level luxury buyers do in the U.S., the customer joins the swanky set for only a few thousand dollars.
How do Germany's car bosses deal with that potential stigma? Lately, they've just made more varieties of car. In the past 10 years, the number of luxury model lines in the U.S. has surged 26 percent, to 90 in total, according to TrueCar, an online car-shopping platform. That number doesn't account for such further variations as different body styles or hybrid engines. (Although it's grown a bit dated, Car and Driver designed a fascinating family tree of luxury brands a couple of years ago.)
Sure, lots of people buy BMW's 3-series, but how many have the bigger engine with the all-wheel-drive system? Or the wagon version? Or the Gran Turismo model? Indeed, BMW's best-selling vehicle—the standard by which all luxury cars are measured—comes in 13 variations.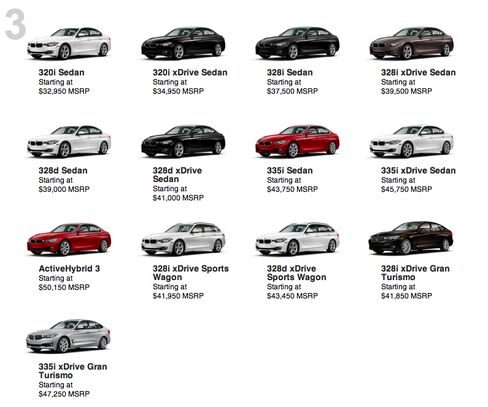 These cars are ubiquitous, but BMW has made sure that each buyer feels at least a little bit special. Meanwhile, the approach provides a slew of new price points. There's no longer a $10,000 gap between models to inspire a potential buyer to either walk away or buy the cheaper vehicle.
BMW's rivals take a similar tack. Those in the market for a Mercedes SUV now have seven classes of vehicles to choose among—not just seven vehicles. (For the record: G-class, GL-Class, GLA-Class, GLE Class, GLK-Class, M-Class, and the R-Class.) It's as if the product team went to breakfast at a New Jersey diner, opened the omelet section of the menu and collectively experienced an "ah-ha" moment.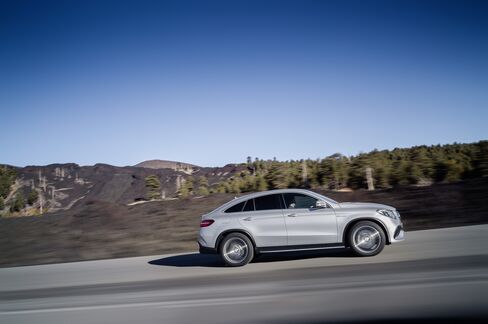 "These companies are doing a really good job with this," says Bloomberg Intelligence analyst Kevin Tynan. "The shared stuff is usually all things the customer doesn't see." By 2020, Mercedes will launch 30 models, including 11 all-new vehicles. It's even promising a pick-up truck. Audi, meanwhile, says it will expand its lineup from 52 models to 60 by 2020.
So far, the strategy is working. Operationally, it's not a stretch. Like omelets, luxury cars share a lot of the same fixings. And the base—what car folks call a platform—can be used across a wide range of models in a nifty bit of economic engineering. Larry Dominique, executive vice president of industry solutions at TrueCar and a former executive at Infiniti, says the extra costs, on a per-car basis, are reasonable. "Volumes have gotten so large at some of these companies that the denominator is a very big number," Dominique says. "They can make the math work."
Drivers are doing their homework and snapping up even the most unique vehicles (see: Audi's TT Roadster), as well as the kind of ridiculous ones shoehorned between the small SUV and large sedan segments (see: BMW's X4).
German executives are playing a dangerous game, though. There's a burgeoning—and by now, pretty robust field of research—showing that an expanding product range can have a chilling effect on business. Adding options often wears down both consumers' willingness to buy and even their well-being.
"There's absolutely diminishing returns at some point," Dominique says. "Especially if some of these entry-level vehicles don't stand up on quality."
In short, shoppers boggled by the SUV aisle at the Mercedes store may just Uber over to Cadillac, where they will find utilities in just two sizes: regular and Escalade. Cadillac is counting on just that. The brand's marketing chief Uwe Ellinghaus says its biggest opportunity is "the ubiquity of the Germans." Last year, drivers bought almost seven BMWs for every Cadillac.
To be sure, there will be a winner in the luxury car race this year. It won't necessarily be the company that sold the most vehicles, or even the most kinds of vehicles. In the meantime, those wanting to keep up with the Joneses should buy BMWs.
Before it's here, it's on the Bloomberg Terminal.
LEARN MORE