How Can a Cop Mistake His Gun for His Taser?
'Oh, I shot him. I'm sorry.'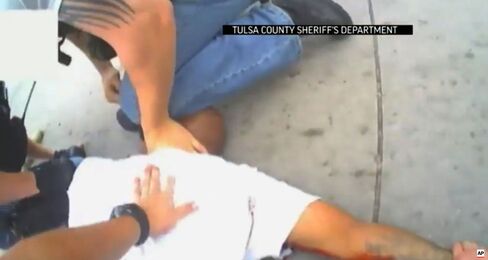 The Taser stun gun a sheriff's deputy apparently confused with his .357 Magnum in the fatal shooting of a black man in Oklahoma was designed to look and feel like a real gun.
That similarity and the training of 73-year-old deputy Robert Bates—an insurance executive volunteering as a reservist, rather than a professional officer—may have contributed to the shooting, caught on a Tulsa County Sheriff's Office video released over the weekend.
The video captures the frenzied effort to catch 44-year-old Eric Harris during an April 2 sting operation by the Sheriff's Office. Harris, suspected of illegal gun dealing, is seen fleeing the sting and being tackled and subdued. Bates, the volunteer deputy, may have been reaching for his Taser X26 to stun Harris into submission with an electric shock. Then a gunshot is heard, and Bates says, "Oh, I shot him. I'm sorry."
Sound from the video includes Harris screaming, "Oh, God, he shot me," and saying, "I'm losing my breath," and a deputy saying: "F--- your breath." Harris's head is still pressed to the pavement beneath an officer's knee. Harris died at a local hospital later that day.
On Monday, the Tulsa County District Attorney's Office charged Bates, who is white, with second-degree manslaughter. His lawyer, Corbin Brewster, said Bates was released on Tuesday on a $25,000 bond.
"I think that the video captures Mr. Bates immediately apologizing, yelling 'Taser!' before he fired his weapon," Brewster said. "Clearly this was a mistake that occurred in the context of Mr. Harris being physically combative with police."
The shooting comes as a white police officer in North Charleston, S.C., was charged with murder after a video emerged showing him shooting an apparently unarmed African American man in the back.
As a volunteer, Bates—a major donor to the Tulsa sheriff's reelection campaign, having given $2,500—received less training than regular deputies get. But mistaking a gun for a Taser is a real issue among law enforcement officers. The company's electroshock weapons were made to handle like firearms.
"We can hand it to an officer [and] it feels like a gun," Taser International Chief Executive Officer Rick Smith said in an interview with Bloomberg Business in February. Smith pointed out that early Tasers looked and felt like flashlights.
"I wouldn't characterize [the shift to a gun-like Taser] as a huge technology research project," he said. "It was more a usability engineering effort," a way to help officers get used to an unfamiliar weapon.
That may have created some high-profile problems.
When Oscar Grant was shot and killed on New Year's Day in 2009 at the Fruitvale Bay Area Rapid Transit station near Oakland, Calif., BART police officer Johannes Mehserle argued that he had mistaken his gun for his Taser. Seven years earlier, in Madera, outside Fresno, an officer shot and killed Everardo Torres after confusing her Taser with her gun.
Greg Meyer, a retired captain with the Los Angeles Police Department, testified for the defense in the case against Mehserle and, in 2012, compiled a list of nine instances since 2001 of confusion over weapons for the Americans for Effective Law Enforcement Law Journal. Meyer said in an interview today that he hasn't found further cases of weapons confusion since 2012.
The problem, Meyer said, isn't with Taser's design, but with training and weapon placement.
Most police departments focus weapons training on firearms, not Tasers, he said. "In most places, you have one eight-hour training with Tasers," Meyer said. "You have officers spending countless hours taking target practice with firearms. They're just used to the gun."
To make matters worse, he said, most officers place their Taser and their gun close to one another, often on the same side of the holster.
"You've got to get the Taser away from the handgun," Meyer said. "I've even gone so far as to recommend that the Taser be placed on the holster on the opposite side of the handgun, so it's accessible with the officer's weak hand. The strong hand is for your handgun, weak hand is for your Taser."
In an e-mail, Taser spokesman Steve Tuttle said that's a reasonable approach. Moving the Taser away from the gun can establish "techniques that help develop muscle memory distinguishable from a firearm draw."
That said, Tuttle pointed to the nine instances of weapons-confusion cases Meyer found, and he said Tasers have been used in the field "more than 2.73 million times."
"We're certainly not blaming [Taser] for the design of their product," Brewster, Bates's lawyer, said.
Brewster said Bates "thought he had a Taser. This is a mistake that can happen to people in high-stress situations. It's our belief that, in light of the circumstances that Mr. Harris created, Mr. Bates did not commit a crime under Oklahoma law."
Bates's next court appearance is scheduled for next Tuesday.
Before it's here, it's on the Bloomberg Terminal.
LEARN MORE