Harvard Medics and Million-Dollar Care Are Must-Haves in China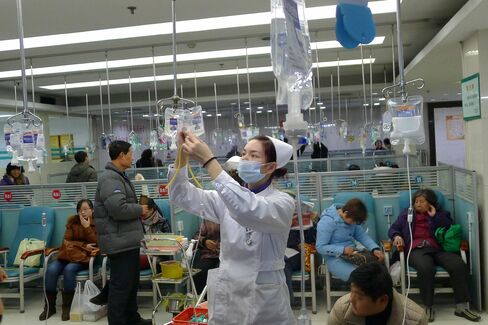 For China's wealthy, luxury is extending beyond Porsche cars and Hermes handbags. Saddled with dirty air and surging rates of chronic disease, their latest must-haves include doctors from Harvard and million-dollar care packages.
The desire for elite health care is creating business opportunities. iKang Healthcare Group Inc., which runs 58 private clinics across China, says it flies doctors in from Harvard Medical School affiliates for consultations. Ciming Health Checkup Management Group, which performs medical exams, offers lifelong health-care packages, including a personal doctor, for as much as 8 million yuan ($1.3 million).
China's economic success has added 300 million people to its middle class since the 1980s. It's also brought the world's highest number of diabetes patients and cancer sufferers. That translates to long waits for medical care and impersonal and, sometimes questionable, treatment for many. Not for the well-heeled, who are jumping the queues and getting the best medical attention money can buy.
"In China, nothing is too high-end," said Lee Zhang, chief executive officer of Beijing-based iKang, whose upscale division caters to the medical needs of mainly senior business executives and wealthy families. "People will buy it as long as you can deliver."
The premium-end accounts for less than 5 percent of China's 2 trillion yuan ($322 billion) health-care services market, according to consultancy Frost & Sullivan.
IKang, which says it has a 13.6 percent hold on China's private preventive health-care services market, is trying to expand that niche.
Hospital Violence
The company, which has climbed about 24 percent in Nasdaq trading since going public a year ago, is benefiting from people's frustration with the local health system. Almost two-thirds of hospitals reported workers were injured in violent attacks against them in a 2012 survey by the Chinese Hospital Association, according to state media reports.
In the past, wealthy Chinese would go abroad for world-class treatment. Now, they want it at home, iKang says.
That demand has prompted Massachusetts General Hospital, ranked by U.S. News & World Report as the nation's second-best hospital last year, to consider building a 500-bed center in China's southern Pearl River Delta region. A decision is expected to be made by June.
Foreign Doctors
The Harvard University-linked hospital, which opened in Boston in 1821, has received many offers of Chinese partnerships, said Greg Pauly, acting chief executive of the Massachusetts General Physicians Organization, the professional body representing the hospital's doctors. U.S. physicians who travel to China are barraged with offers.
China's decade-long economic boom has been accompanied by a surge in obesity- and pollution-linked illnesses, such as type 2 diabetes, stroke and certain cancers. Public hospitals treated almost 90 percent of all patients in 2013, even though almost half of China's hospitals are run privately. While large public hospitals have the best equipment and doctors, they are often overwhelmed with patients suffering from colds to cancer.
If the waiting times don't deter wealthier patients, a lack of trust might. Public hospital doctors are driven to over-prescribing drugs and ordering too many tests to supplement their incomes and protect themselves from patient disputes, according to a survey of over 500 doctors published in the Social Science & Medicine journal in December.
Boston to Beijing
In contrast, Western doctors are associated with quality, and names such as Harvard instill confidence. Henning Gaissert, an associate professor of surgery at Harvard Medical School and associate visiting surgeon at Massachusetts General says his title at both centers was probably a key reason iKang invited him to consult on a few cases in Beijing last October.
While the patients were all affluent, demand for his services reflects a broader concern, Gaissert said.
"The real story here is the difficulty a Chinese patient faces in developing a trusting relationship with a physician," he said. He declined to quantify what he charged, saying that the fees justified him taking time off to travel to China.
IKang's Zhang is also leveraging off of a Harvard Medical School link. He spent three years on a graduate program before returning to China and establishing a business that does health screening and helps patients get appointments with China's better-known doctors. His company's most expensive packages cost about 130,000 yuan to 280,000 yuan ($20,000-$44,000), which includes a consultation from a U.S.-based doctor, according to brochures.
Personal Doctor
Patients at Ciming's Oasis hospital in Beijing can pay to have six Chinese doctors from various specialties review their test results, Chairman Hu Bo said. Those with an illness can pick from well-known physicians at local hospitals and get fast-track access to treatments in the U.S., Japan and South Korea. A personal doctor will guide them on their treatment program and monitor their progress, including any complications.
Lifelong packages at Oasis cost as much as 6 million to 8 million yuan, Hu said. While the fees are large and the market potential big, investment costs and overheads are high, and the upscale business has been slow to return a profit, he said, declining to elaborate. The company's 200-million-yuan Oasis hospital, opened in March 2012, has just broken even, Hu said in February.
Ciming, based in Beijing, has agreed to be bought by another checkup provider Meinian Onehealth Industry Group. The tie-up will allow Ciming access to capital markets when Meinian completes a planned backdoor listing via another public company.
— With assistance by Hui Li, and John Lauerman
Before it's here, it's on the Bloomberg Terminal.
LEARN MORE