France Inc. Bristles Over Law Giving Votes to Select Few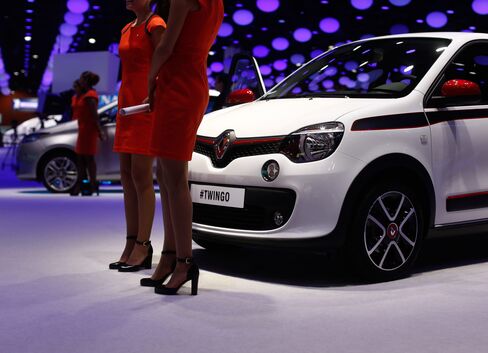 Billionaire Vincent Bollore and France's Socialist government aren't obvious bedfellows, yet the two have found common cause in trying to secure double-voting rights for long-term French investors.
The government's determination to force compliance with its "Florange Law" -- promising extra voting power to those owning stocks for more than two years -- became apparent last week when it increased its stake in Renault SA to scupper the carmaker's attempt to avoid making the change.
While other big French companies will also try to block the measures at annual meetings starting this week, Bollore has emerged as a supporter. Owner of a 14.5 percent stake in Vivendi SA, the Breton businessman wants to use the double-voting rights to give him greater control over the Paris-based media company.
"The French state believes in long-term shareholding," Economy Minister Emmanuel Macron said in an interview with RTL radio station on April 9. "Bollore, in his battle for Vivendi, is going in the same direction and has my full support."
The difficulty for the minister is that Bollore's enthusiasm for a measure designed to counter investor "short-termism" and hostile takeovers isn't shared by all of his fellow business leaders.
French shareholder meetings started with Vinci SA on Tuesday, where 99.3 percent of investors voted against double-voting rights. Another 10 CAC 40 Index companies, from L'Oreal SA and Cap Gemini SA to BNP Paribas SA and Credit Agricole SA, are set to propose extraordinary motions to shareholders to oppose the new obligation.
State Meddling
Their opposition reflects a desire to stick to the "one share, one vote" principle preferred by many investment funds, as well as concern from some that the French state could use the measure to increase its meddling in companies where it owns a stake, according to Bloomberg Intelligence senior analyst Gregory Elders. About half of CAC 40 shares are held by foreign investors.
"The only interest of double voting rights is to allow the taking control of companies without having to own a majority of the shares," Vinci Chief Executive Officer Xavier Huillard said in an interview on Monday.
"You're creating two kinds of shareholders," said Denis Branche, partner and fund manager at Paris-based PhiTrust Active Investors, which owns Vivendi shares and opposes the Florange law. "You need proportionality between the number of shares and the voting rights." Moreover, in France only registered shareholders will get the double votes, which Branche said penalized individuals who invest through banks or funds.
The government is expected to win its fight with Renault after saying it will increase the state's stake to 19.7 percent (with 23.2 percent voting rights), ahead of a vote at the carmaker's annual meeting on April 30. Renault's motion is to modify its by-laws by instituting the one-share, one-vote principle, but it needs more than two-thirds of shareholder support to block the Florange Law.
GDF Stymied
GDF Suez is set to present a similar motion, though it's unlikely to succeed as the French state owns 33 percent of the energy company.
"Many institutional investors believe that the principle of 'one share, one voice' should be restored even as the Florange law lays down the basis for double-voting rights," Chief Executive Officer Gerard Mestrallet said in February. "I wanted to allow shareholders to be heard."
International proxy advisers such as ISS as well as French ones such as Proxinvest oppose the measures.
PhiTrust has been at the forefront of the investor battle against the legislation, saying it damages the rights of minority shareholders. Its campaign has the backing of 19 investors in countries from Germany to the U.K. and Switzerland that manage 2.3 trillion euros ($2.4 trillion) in assets.
Vivendi Targeted
Vivendi is one of PhiTrust's targets, with a resolution to block the change filed ahead of the company's annual meeting on April 17 and backed by investors including Amundi SA, Edmond de Rothschild Asset Management and the California Public Employees' Retirement System.
Peter Schoenfeld, whose P Schoenfeld Asset Management LP owns about 1 percent of Vivendi and just ended a dispute with Bollore over dividends, said he'd join the billionaire in voting against PhiTrust's resolution.
While France -- fueled by anger about being unable to stop steel furnace closures by ArcelorMittal -- has gone further than most in legislating, double-voting does happen elsewhere in Europe. After an investor rebellion, Italy backtracked recently from a law that would have made it easier to create similar "loyalty shares."
Double-voting was previously an option available to French companies, but the new legislation means it is now the standard practice and boards wanting to stick to "one share, one vote" will have to win shareholder support.
"We're one of the very few countries to have this kind of rule," said Hubert Segain, a partner at law firm Herbert Smith Freehills. "It's a power game. This allows anchoring companies so that there are fewer hostile bids from belligerent shareholders."
Before it's here, it's on the Bloomberg Terminal.
LEARN MORE