Five Things Everyone Will Be Talking About Today
Get caught up on what matters this morning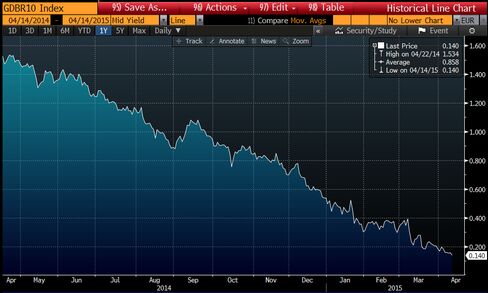 Record low bond yields, Greek denials and the U.K. dodging deflation. Here are some of the things that people will be talking about today.
More records in the European bond market
The German 10-year bond yield is approaching zero and the 2-year bond yield hit a fresh record low of -0.286 percent this morning. Bear in mind that the European Central Bank can only buy securities yielding more than the deposit rate, which currently stands at -0.2 percent. At the time of writing the German 2-year, 3-year and 4-year yields trade below that threshold.
The ECB says its plan is working
In its bank lending survey the ECB said "Euro-area banks indicated that they have used the additional liquidity from their sales of marketable assets related to the asset-purchase program over the past six months in particular for granting loans."
Greek denial
Greek government officials return to work today after a long weekend celebrating Orthodox Easter. Officials have already found themselves denying a report that the nation is preparing to default if an agreement is not reached with creditors.
U.K. dodges deflation
For a second straight month the U.K. inflation rate came in at zero. The core rate of inflation, which strips out energy, food, alcohol and tobacco, slowed to just 1 percent.
Coming up…
U.S. retail sales are released at 0830 ET and the International Monetary Fund delivers its full report on the global economy at 0900 ET.
Before it's here, it's on the Bloomberg Terminal.
LEARN MORE