Ex-Freddie Mac Officials Settle SEC Suit Over Subprime Loans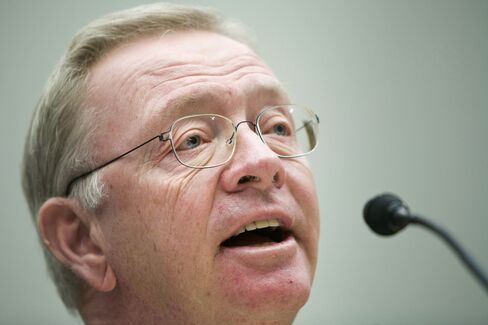 Three former Freddie Mac executives settled a lawsuit by regulators over whether they misled the market about the mortgage-finance company's exposure to risky loans, in a deal that included about $300,000 in donations to a fund set up to reimburse investors.
The settlement marks a quiet end to a high-profile U.S. effort to hold individuals accountable for some of the shocks to the financial system after banks, ratings companies and others underplayed the risks of subprime mortgages.
Richard Syron, the former chief executive officer of Freddie Mac, and two other executives settled the Securities and Exchange Commission's 2011 lawsuit without admitting liability. In 2007 and 2008, according to the SEC suit, the three executives had said exposure to subprime mortgage loans was from $2 billion to $6 billion, when it was actually as high as $244 billion.
"This was one of the big cases to come out of the financial crisis. They accused CEOs of lying," said Peter Henning, a corporate law professor at Wayne State University in Detroit. "And now, it ends, with I guess you can say, a whimper."
Weak Case
The unusual settlement likely reflects a weak case by the SEC, Henning said. The agency also sued executives of Fannie Mae, including former CEO Daniel Mudd, over similar claims of misrepresentations. Tuesday's resolution with Freddie Mac executives will likely help Mudd and his former colleagues.
"If I were Mudd, I would see if I could get this deal," Henning said.
James Wareham, Mudd's attorney, declined to comment on the case.
Also settling the case in Manhattan federal court were Patricia Cook, a former Freddie Mac executive vice president, and Donald Bisenius, an ex-senior vice president.
Under the agreement, the three executives must donate money to the Freddie Mac Fair Fund, set up to reimburse investors, in amounts tied to their stock and option awards during fiscal years 2006 and 2007. Syron will pay $250,000; Cook, $50,000; and Bisenius, $10,000. The three agreed to cooperate with the SEC in any related proceeding.
"We're delighted with the terms of the dismissal," Bisenius's lawyer, Daniel Beller, said. "Mr. Bisenius is not making any payment. Freddie Mac's insurer will make a donation on his behalf."
Steven Salky, Cook's lawyer, said in a statement, "We are extremely pleased with this resolution."
Syron said in an e-mailed statement Tuesday that "The agreement states that it is not in the interests of justice to continue to litigate this matter, and I wholeheartedly agree with that sentiment."
'Appropriate Resolution'
The three also agreed for limited periods not to violate anti-fraud and reporting provisions of U.S. securities laws or sign company reports filed with the agency. The SEC initially sought to ban them from serving as officers or directors of other companies.
"The settlement's limitations on future activities and financial payments reflect an appropriate resolution of the matter," Andrew Ceresney, the SEC's director of the Division of Enforcement, said in an e-mail.
U.S. District Judge Richard Sullivan on Tuesday approved the agreement.
McLean, Virginia-based Freddie Mac and Washington-based Fannie Mae are government-sponsored enterprises that issued more than half of all mortgage-backed securities at the time of the financial crisis.
The case is SEC v. Syron, No. 11-cv-09201, U.S. District Court, Southern District of New York (Manhattan).
Before it's here, it's on the Bloomberg Terminal.
LEARN MORE