Cameron's Right to Buy Seen Making U.K. Housing Shortage Worse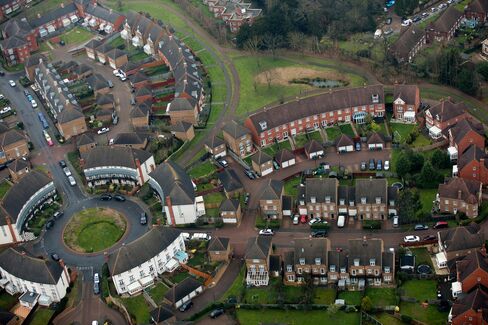 U.K. Prime Minister David Cameron's intention to offer 1.3 million poorer families the chance to buy their rented homes will probably worsen a housing shortage that has pushed prices to records, critics of the plan say.
"The U.K. faces a serious structural shortage of housing supply, particularly for low-income families," said Jonathan Portes, director of the National Institute of Economic and Social Research. The plan, known as Right to Buy, "not only removes a source of affordable rented houses for some people but it does nothing to add to the housing supply."
Cameron's promise to broaden one of Margaret Thatcher's most popular policies comes less than four weeks before a May 7 national election, with his Conservatives and the opposition Labour Party running neck-and-neck in the polls. The policy, which allows renters to buy their homes from local councils at discounts of at least a third, will be extended to nonprofit housing associations that are some of Britain's biggest landlords.
Anyone who has rented housing association property for at least three years will be entitled to buy it at a discount. The association will be required to build a new home to replace each one it sells off. Under the existing program, less than half of the properties sold since 2012 have been replaced, according to the National Housing Federation, a lobby group for affordable homes.
Supply Ignored
"Like all the other policies, it's stimulating demand, not supply," said Johnny Morris, head of research at broker Hamptons International. "There's nothing like the number of homes being built by local authorities to replace those sold."
The Conservatives and their Liberal Democrat coalition partner revived the Thatcher policy in 2012 by raising the maximum discount for Right to Buy in London to 75,000 pounds ($110,000) from as little as 16,000 pounds. The following year they raised it to 100,000 pounds. They also increased the maximum discount on a U.K. house to 70 percent from 60 percent last year.
The extended program will be paid for by requiring councils to sell off their most expensive housing when it becomes vacant. That will raise 4.5 billion pounds a year, the Conservatives said in a statement.
"The expansion of Right to Buy may be good politics, but represents terrible policy," said Adam Challis, head of residential research at Jones Lang LaSalle Inc. "At a time when we are building barely half the homes this country needs, we need a government that is interested in genuine solutions to the housing crisis rather than cheap vote-winners."
Backing Homebuyers
England needs about 245,000 new homes a year to keep up with growing demand, Bloomberg Intelligence reported, citing the National Housing Federation. About 115,000 were completed annually on average over the last five years.
"As the party of home ownership, we want to go further and faster," the Conservative Party said in its manifesto released Tuesday. "We will extend our Help to Buy Equity Loan scheme, introduce a new Help to Buy ISA, extend the Right to Buy to housing association tenants."
The Right to Buy proposal follows a series of measures introduced by Cameron's government to support home ownership, including the Help-to-Buy program to assist first-time purchases and a revamp of the stamp-duty system that cut costs for most homebuyers. House-price growth is outpacing earnings in almost a fifth of the U.K. districts, according to a report by mortgage lender Halifax published last month.
Affordability Crisis
Extending Right to Buy "seems very divorced from the problems in the housing market," said Michael Orton, a researcher at the University of Warwick who studies housing. There is a "major crisis of affordability" in the U.K.
The Housing benefit costs the U.K. 24 billion pounds a year, 9.5 billion pounds of which is paid to private landlords, government data shows. "That's driven by a lack of homes," Orton said.
U.K. house prices climbed 7.2 percent during the year to February led by gains in London and the east of England, the Office for National Statistics said Tuesday. The average U.K. home now costs 268,000 pounds.
"As well as depriving future generations of decent affordable housing, the Conservative Party is planning to raise 17.5 billion pounds over the life of the next parliament from the sale of high-value properties to fund the discount," Ruth Davidson, the NHF's director of policy and external affairs, said by e-mail. That "is enough to finance nearly one million new shared ownership homes open to everyone, not just the lucky few already well housed in secure social homes."
Before it's here, it's on the Bloomberg Terminal.
LEARN MORE