Boom Time Hits Italian M&A as Renzi Delivers Relative Stability
How Italy's political calm is boosting business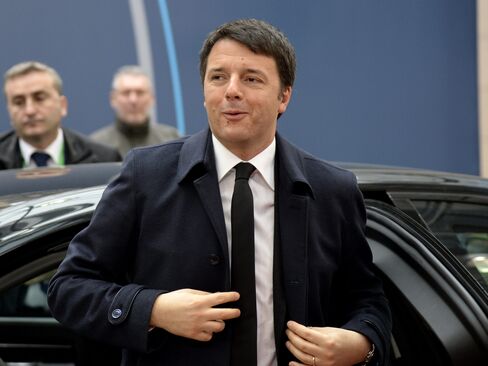 As much of Europe is buffeted by political turmoil, a period of relative stability under Prime Minister Matteo Renzi is helping to drive a boom in mergers and acquisitions in Italy.
Deals targeting Italy surged more than 400 percent year-on-year to a total value of $19.3 billion, according to data compiled by Bloomberg. That's more than any other country in the euro region and compares with a 14 percent increase across Europe as a whole.
Driven by transactions including ChemChina's purchase of tire-maker Pirelli SpA and Dufry AG's acquisition of airport retailer World Duty Free SpA, the flourishing deals activity is being hailed by Renzi's government as a vindication of its push for economic and institutional reform while welcoming foreign investment. It's also a contrast to previous administrations which insisted on Italian firms staying Italian.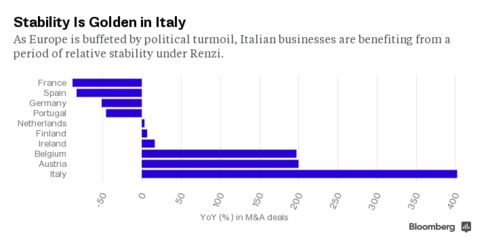 "I've seen the attitude of foreign CEOs shifting: In the fall they were skeptical because only a few reforms had gone through," Marco Simoni, an economic adviser to Renzi, said in an interview at Palazzo Chigi, the premier's official residence in Rome. "Then things changed after we did the labor reform and cut taxes on firms."
It's a work in progress. Italy is struggling to emerge from a three-year recession, the longest since World War II, and government debt is among the highest in Europe. The World Bank lists Italy 56th out of 189 countries for ease of doing business, and ranks it 147th in enforcing contracts.
Beating Peers
Italy still managed to top its euro peers in M&A activity in the period January to April 2015, up from fifth place for all 2014. Across Europe, Italy was second only to the U.K. in terms of the increase recorded in completed and pending deals in the year to date. Germany, France and Spain all ranked lower, each witnessing declines in deals activity. Switzerland, which placed third after Italy, saw a 41 percent increase year-on-year to a total volume of $13.9 billion.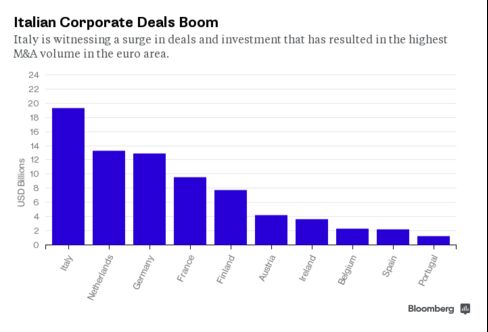 The paradox is that Renzi, 40, although not elected, has emerged as a guarantor of political stability after quelling internal squabbles in his coalition and watching the opposition divide. He was appointed premier in February 2014 by then-president Giorgio Napolitano, and saw his Democratic Party win 41 percent of the vote in the European elections in May, the highest score for a single party since the 1950s.
That relative calm in the euro region's third-biggest economy may be enough for businesses to turn to their advantage, especially when compared to what came before.
Prodi, Berlusconi
In 2006, Autostrade SpA, Italy's biggest toll-road operator -- now Atlantia SpA -- abandoned a 13.6 billion-euro merger with Spain's Abertis Infraestructuras SA because of opposition from then-Prime Minister Romano Prodi's government.
The following year, Italian investors allied with Telefonica SA took control of Telecom Italia SpA to fend off an offer from billionaire Carlos Slim.
A similar model was used in 2008 by then-Prime Minister Silvio Berlusconi to try to avert the sale of loss-making national airline Alitalia SpA to Air France-KLM Group. His unsuccessful plan was revisited in 2013 by Renzi's immediate predecessor, Enrico Letta. Abu Dhabi-based Etihad Airways PJSC ended up acquiring a 49 percent stake in the Italian company last year.
Carlo Alberto Carnevale Maffe, a professor of business strategy at Milan's Bocconi University, said that Renzi has yet to tackle some major obstacles to business in Italy including an erratic judicial system. Yet he credits the country's youngest ever premier with burying ``a protectionist attitude'' which endures for example in France, and making it easier for international corporations to hire in Italy.
'More Upside'
"Italy has more upside because it is still lagging behind in terms of recovery," said Maffe. "So it's intelligent today to invest in Italy, banking on a quicker pace of recovery compared to other countries."
Nor is the pace likely to slow. Last month, parliament approved a law to turn the country's 10 largest cooperative banks into joint-stock companies within 18 months. Those banks "are looking for M&A opportunities," according to Italian Finance Minister Pier Carlo Padoan, who predicts an acceleration of activity on the banking front.
Padoan, speaking in a Bloomberg Television interview from Singapore last week, said that while it's exclusively a corporate decision to push for deals, the Renzi government is "preparing the level playing field for companies."
"We are increasing the incentives for doing it," he said.
Before it's here, it's on the Bloomberg Terminal.
LEARN MORE