Avon Said to Consider Sale of North America Unit Amid Review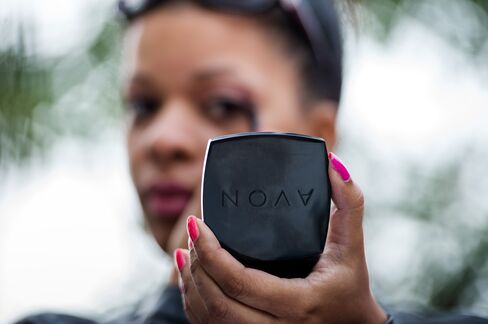 Avon Products Inc. is exploring a sale of its North American operations as it evaluates ways to turn around the struggling unit, according to people familiar with the matter.
The makeup company isn't running a formal sales process, though it is open to offers for the division, said the people, who asked not to be identified because the information is private. Declining sales in North America may deter potential buyers, the people said, and Avon is also considering other options for the business.
Avon's shares jumped 14 percent after the Wall Street Journal initially reported on the potential sale.
Avon has posted three straight years of losses and declining sales, putting pressure on the company to explore its options. Linda Bolton Weiser of B. Riley & Co. has estimated that the entire company could fetch a takeover valuation of about $6 billion. It currently has a market capitalization of almost $4 billion.
On Monday, Avon postponed an investor meeting that had been scheduled for May 13. It cited the recent hiring of James Scully as chief financial officer, saying Avon needed "adequate time to prepare for a more robust discussion at the meeting."
Lindsay Fox, a spokeswoman for New York-based Avon, declined to comment on Tuesday.
Rebounding Shares
The stock climbed to $9.15 at the close of trading in New York, the biggest gain since Jan. 22. Avon shares had been down 15 percent this year through Monday's close.
The company, a more-than-century-old business known for door-to-door sales, previously sold its stake in Avon Japan to private equity firm TPG Capital in 2010. Coty Inc., another seller of beauty products, also once bid $23.25 a share for all of Avon, an offer that was rejected in 2012. Coty later withdrew a sweetened offer of $24.75 a share, citing Avon's "unwillingness to engage in discussions."
Scully, J. Crew Group Inc.'s former finance chief, was hired by Avon in January and he joined the company in March. Chief Executive Officer Sheri McCoy told analysts on a conference call in February that his hiring had nothing to do with deal talks. DealReporter had said the previous month that TPG was in discussions about a potential transaction. That story sent the shares up 15 percent on Jan. 22.
Before it's here, it's on the Bloomberg Terminal.
LEARN MORE