Woods Return Makes Him Proud, Draws TV Viewers: Masters Notebook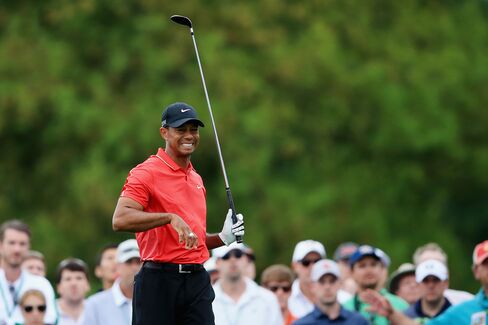 Tiger Woods proved the doubters wrong.
After more than two months away from competitive golf, Woods made his return with a tie for 17th place at the Masters Tournament, his best finish in a full-field event since November of 2013. Entering the Masters, oddsmakers had given him just a 22 percent chance of a top 20 finish.
"I'm pretty proud of what I've done," said Woods, who was tied for fifth place entering the final round and finished 5 under par. "No one knows how hard we had to work to get to this point. My first tournament back, being a major championship, and to give myself a chance, it felt good."
The public was happy he was back, too.
A year ago, television ratings for the Masters sank to their lowest level in 10 years as Woods missed the tournament following back surgery. Third-round ratings in 2014 were the lowest since 1995.
With Woods back this year -- and Jordan Spieth tying Woods's record for the lowest score in Masters history -- Saturday's television ratings on CBS increased by 48 percent and were their highest since 2011, when Woods was in third place heading into the weekend.
"Golf is a lot more fun when he is around on the leaderboard," said Golf Channel analyst Brandel Chamblee, who praised Woods's performance at Augusta National.
Woods, 39, had plummeted to 111th in the world rankings as he dealt with back problems, chipping and pitching woes, and struggled to adjust to swing changes.
Before the Masters, the last full round for Woods was an 11-over-par 82 at the Phoenix Open in January -- his worst score as a professional -- and the following week he pulled out of the PGA Tour event at Torrey Pines with back pain.
Hours Practicing
In the past two months, Woods said he spent countless hours practicing, often sunup to sundown, and promised he wouldn't return until he was ready to compete at the highest level.
Woods shot rounds of 69 and 68 on Friday and Saturday at Augusta National Golf Club, marking the first time he had consecutive sub-70 rounds at the Masters since capturing the most recent of his four titles in 2005.
"I've got my pop back," Woods said after closing with a 1-over-par 73 in the final round. "And then on top of that have I got my short game back, which was nice."
Woods, who injured his wrist midway through his final round when he struck a root with a swing, wouldn't say what tournament he'll play in next. He said only that he won't play for a while and will continue to practice.
The Players Championship is scheduled for May 7-10 at TPC Sawgrass in Ponte Vedra Beach, Florida. The next major, the U.S. Open, is scheduled for June 18-21 at Chambers Bay Golf Course outside Seattle.
"Golf is a better place with him out there," said Colin Montgomerie, a member of the World Golf Hall of Fame who now is a Golf Channel analyst. "I didn't think it was going to be this good. Only one person thought that he would be, and that was him."
***
The $10 million prize purse for this year's Masters matched the 2014 Players Championship as the richest for a tournament in golf history.
In 1997, when Spieth was three months shy of his fourth birthday and Woods won the first of his four Masters titles, the total purse was $2.7 million.
By 2001, when Woods won for the second time, it had climbed to $5.5 million. That year also marked the first time that the winner's check topped $1 million, with Woods getting $1.01 million for his two-stroke win over David Duval.
***
Phil Mickelson raised his game at the right time.
Mickelson, 44, entered the Masters with one top-10 finish in his previous 31 PGA Tour starts, as the runner-up at the 2014 PGA Championship. He also finished second at Augusta National, firing rounds of 70, 68, 67, 69 to finish four shots behind Spieth's record-tying total.
"I don't have probably a great explanation other than I really focus on those events," Mickelson said. "I really work for them with the idea that these are the events that I'm trying to play well in now."
In addition to his three Masters wins, he also had five third-place finishes at Augusta National. This marked the first time he finished second.
"It's not my motivation to go try to grind out win week after week," Mickelson said. "I want to zero in on the four or five biggest events, and I've been fortunate in that I've been able to get some of my best golf out in those events."
***
-Spieth becomes the record-extending 13th player from the state of Texas to win the Masters. The last had been Ben Crenshaw in 1995.
-Bernd Wiesberger had the best finish among first-time Masters participants with a tie for 22nd place.
-Spieth had a record 28 birdies in his win. The most birdies by a previous Masters winner was 24 by Woods in 2005.
-The par-4 11th hole was the most difficult at the Masters this year, playing to an average score of 4.33.
-The easiest hole was the par-5 13th, which had a scoring average of 4.55, with 20 eagles and 141 birdies.
-Only two players had fewer putts than Spieth's 108 over 72 holes: Dustin Johnson and Steve Stricker with 106.
-Spieth hit 75 percent of his greens in regulation, tied for second in the field behind Ian Poulter (82 percent).
Before it's here, it's on the Bloomberg Terminal.
LEARN MORE