U.K. Dodges Deflation for a Second Month as Rate Stays at Zero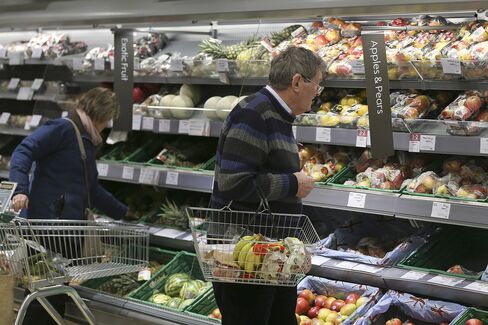 U.K. consumer prices stagnated for a second month in March as restaurants and hotels spared the country from outright deflation.
The inflation rate remained at zero, in line with the median estimate in a Bloomberg News survey. Core inflation slowed to the weakest in nine years, reflecting a drop in clothing prices.
Weak price growth means there's little pressure on the Bank of England to raise its key interest rate from a record-low 0.5 percent, where it's been for more than six years. Governor Mark Carney has said any period of falling prices will be temporary and an expected pickup in inflation at the end of the year means the next move in interest rates is likely to be an increase.
This "was the trough in the inflation rate and we should move back up in the months ahead," Philip Rush, an economist at Nomura International Plc in London, said in a Bloomberg Television interview in London. However, the fact that it's "so low and could under some circumstances translate through into a more deflationary psychology means that they would rather wait until there's absolutely no doubt that inflation is going to be stronger before they start to move."
Core Inflation
The core rate of inflation, which excludes energy, food, alcohol and tobacco, slowed to 1 percent, the lowest since July 2006. Retail-price inflation slowed to 0.9 percent, the lowest since November 2009.
The pound stayed lower against the dollar after the data and was down 0.3 percent at $1.4630 as of 11:12 a.m. London time.
The biggest upward contribution came from education, as well as restaurants and hotels, which each added 0.2 percent to the CPI. Prices of motor fuel and food fell from a year earlier. Inflation averaged 0.1 percent between January and March, the lowest quarterly rate since at least 1997.
Between March and February, downward pressure came from household gas bills, which fell more than in March 2014, and from clothing and footwear prices. Clothing prices, which normally rise in March as New Year discounts come to an end, declined in the month for the first time on record.
Upward pressure came from motor fuels, with average gasoline prices rising 3.8 pence per liter compared with no change last year. Food and non-alcoholic drink prices fell by less than a year earlier.
Wage Growth
With no inflation and wage growth accelerating, Britons are experiencing the first sustained real-pay growth since the financial crisis, though Prime Minister David Cameron is struggling to turn that into votes. His Conservative Party remains neck-and-neck with the Labour opposition with less than a month to go before the general election.
"A few months of falling world oil prices won't solve the deep-seated problems in our economy or make up for years of bills rising faster than wages," Labour's Shadow Chief Secretary to the Treasury Chris Leslie said. "Labour's better plan will build a more productive economy that will earn our way to higher living standards for all."
While inflation is set to remain near zero for most of 2015, the U.K. is unlikely to fall into a deflationary cycle, said IHS chief economist Howard Archer. "It is highly improbable that U.K. consumers will start delaying purchases in anticipation of falls in prices."
Separately, the ONS said producer prices rose 0.2 percent in March and were down 1.7 percent from a year earlier. Input prices rose 0.3 percent on the month and fell 13 percent from a year earlier.
House-price growth slowed to an annual 7.2 percent in February from 8.4 percent in January. Values in London rose 9.4 percent, down from 13 percent the previous month.
Before it's here, it's on the Bloomberg Terminal.
LEARN MORE