U.K.'s Labour Plans Crackdown on Hedge Funds' Takeover Influence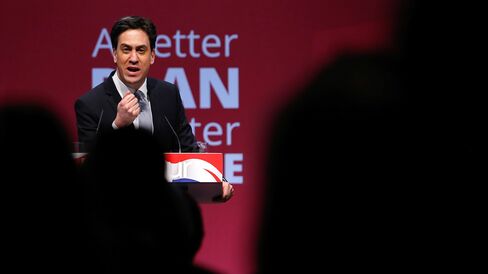 Hedge funds may face a crackdown on their ability to influence U.K. takeovers after the Labour Party pledged to change laws on shareholder voting should it win next month's general election.
Labour will reform takeover regulations with a view to "restricting voting to those already holding shares when a bid is made," the party said in its policy manifesto, published Monday. The opposition party also said it would "strengthen the public interest test," to make it easier for the government to veto takeovers in order to protect British companies.
Labour is battling with Prime Minister David Cameron's Conservative party to win May's election, with neither party establishing a consistent lead with just over three weeks to go, according to recent opinion polls.
The policies are in line with the party's direction under leader Ed Miliband, who has sought to bring Labour closer to its left-wing roots with proposals for tax increases for higher earners and a greater economic role for the state. Under Tony Blair, the last Labour leader to win an election, the party was identified with a more hands-off approach to takeovers and finance in general, which it largely repudiated after the 2008 financial crisis.
"If this is implemented, it is likely that fewer arbs would be able to determine the outcome of bids than is currently the case," said Piers Prichard Jones, a partner at law firm Freshfields Bruckhaus Deringer LLP in London. "This would make it harder for a bidder to succeed in a non-recommended bid situation and could be a significant deterrent."
Arbitrage traders often place bets on the outcome of a merger transaction by buying or selling the stock of companies involved, a strategy that is particularly popular in the U.K. If large numbers of shares are bought by funds in favor of a transaction, they can amass enough voting rights to affect the outcome of a deal, as in 2010 when hedge funds bumped their stake in Cadbury Plc to above 30 percent during Kraft Food Group Inc.'s months-long pursuit of the British confectionery maker.
Takeover Code
Meanwhile, the U.K. has traditionally taken a less interventionist approach to foreign ownership of domestic companies than other developed countries, with few opportunities for the government to weigh in on deals.
The country's Takeover Code, which was signed into law in 2006 during Blair's term as Prime Minister, makes no mention of national interest tests or limitations on foreign ownership, though lawmakers can intervene in limited circumstances. Canada and Australia have both in recent years blocked takeovers by overseas buyers on national interest grounds.
A restriction on voting rights would apply as soon as a formal takeover offer is made, a Labour official, who declined to be named in line with party policy, said. The U.K.'s ruling coalition parties, Cameron's Conservatives and the Liberal Democrats, led by Deputy Prime Minister Nick Clegg, are scheduled to release their own manifestos this week.
"We will reform corporate governance to protect our leading firms from the pressure to put tomorrow's share price before long-term growth potential," Labour wrote in its manifesto. "Institutional investors will have a duty to act in the best interests of ordinary savers. They will have to prioritize long-term growth over short-term profits for the companies in which they are investing."
Last year was the most active for takeovers of U.K. targets since 2007, even as the biggest deal of the year -- Pfizer Inc.'s almost $120 billion bid for London-based AstraZeneca Plc -- was abandoned amid intense political scrutiny.
"If you're an overseas company looking to invest in the U.K. you'd want a political landscape that is underpinned by certainty," said Prichard Jones. "Potential bidders are likely to wait until that happens post-election."
Before it's here, it's on the Bloomberg Terminal.
LEARN MORE