Top Forecasters See BOK Weakening Won as U.S. Criticism Rebutted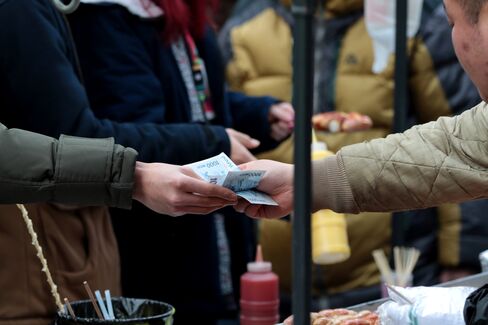 South Korea is set to defy U.S. pressure for won intervention to be reined in and will engineer a weaker exchange rate to support exports, top forecasters say.
The currency will drop 3.7 percent to 1,140 per dollar by the end of June, according to Australia & New Zealand Banking Group Ltd., which Bloomberg data show had the most-accurate estimates over the last four quarters. ABN Amro Bank NV, ranked third, predicts a decline to 1,120. While the won fell in the past month to the weakest since July 2013 versus the greenback, it climbed to the strongest levels in at least seven years against the euro and the yen.
"The won is overvalued, particularly against the Japanese yen, and that's having a negative impact on growth," Khoon Goh, a Singapore-based senior strategist at ANZ, said yesterday in a phone interview. "We might see the Bank of Korea having to do more and needing to cut interest rates further in order to try boosting domestic demand and that, in turn, could be a catalyst for won weakness."
South Korean exports fell in each of the last three months and the central bank on April 9 lowered its 2015 projections for overseas sales and economic growth. Governor Lee Ju Yeol said that day authorities were closely monitoring won moves against the currency of Japan, home to some of the biggest competitors of Samsung Electronics Co. and Hyundai Motor Co.
The U.S. Treasury said last week that it stepped up discussions with South Korea over the latter's exchange-rate intervention, which appeared to have "substantially increased" in December and January. The criticism was rebuffed, with Song In Chang, director general at the Finance Ministry, saying there would be no change to its policy of conducting smoothing operations at times of currency volatility.
Auto Sales
Hyundai Motor, South Korea's biggest automaker, reported a 14 percent drop in net income for 2014 and sold 3.6 percent fewer vehicles abroad in the first quarter than it did a year earlier. Subsidiary Kia Motors Corp. suffered a 22 percent drop in profits last year, with earnings in the fourth quarter collapsing 54 percent.
"Corporate performances started to show an adverse impact from the overvalued won," James Huh, a Seoul-based economist at Samsung Securities Co. said by phone on April 2. "The yen-weakening trend has been in place for two years, and we saw the euro tumbling in the last three to four months. The impact will start to emerge."
Yen, Euro
The won has strengthened 11 percent versus the yen in the past 12 months and surged 24 percent against the euro as Bank of Japan and the European Central Bank boosted bond-buying stimulus to support their economies. It weakened 5.4 percent to 1,097.80 per dollar as of 12:05 p.m. in Seoul in the same period as the BOK lowered its benchmark interest rate three times and the Federal Reserve signaled plans to tighten.
While South Korea's exports to the U.S increased 13 percent in the first quarter, sales to Japan and the European Union each shrank more than 20 percent, official data show. A Bank of International Settlements gauge of the won's value against a basket of trade-weighted currencies climbed in January to the highest level since February 2008.
The U.S. Treasury comments on South Korean intervention were made in a semiannual report on foreign-exchange policies released last week. The Asian nation was criticized for curbing won appreciation even as the country runs a current-account surplus equivalent to 6 percent of gross domestic product.
Current Account
While the excess in the broadest measure of trade is expected to reach an all-time high of $96 billion this year, authorities will be concerned about the currency's relative strength, Roy Teo, a Singapore-based currency strategist at ABN Amro, said by phone on April 8. "They may come in to intervene or to manage the currency so that exporters will not be hurt."
The current-account surplus will limit declines in the won, Chung Hae Soo, Shinhan Bank's trading head said in a interview in Seoul on April 3. The bond market isn't factoring in many rate cuts, with the three-year sovereign yield at 1.72 percent on Monday. The central bank kept its benchmark interest rate at a record-low 1.75 percent at an April 9 review.
Overseas sales will grow 2.9 percent this year, less than a January projection of 3.4 percent, the BOK said after last week's policy meeting. The economic growth forecast was cut to 3.1 percent from 3.4 percent and the monetary authority said yen weakness could lead to a further downgrade.
"For a small open economy like South Korea, the impact from exchange-rate swings is significant," Seo Jeong Hun, an economist at Seoul-based Korea Exchange Bank said by phone on April 10. "If the authorities ignore the impact, a part of the economy could be damaged seriously. They will not just sit and watch."
Before it's here, it's on the Bloomberg Terminal.
LEARN MORE