The Era of Dangerously Lowflation, and the stagnant-wages storyline that's gone with it, finally may be coming to an end.
So forecasts Omair Sharif, a rates sales strategist at Societe Generale in New York, who sees inflation data perking up and keeping June on the table for the Federal Reserve's first increase in the benchmark interest rate since 2006.
Sharif recognizes he's in what's "becoming a very lonely camp" of economists who think the Fed will move so soon given the disappointing first-quarter economic data and the strong dollar and weak energy prices that have damped hopes of firming inflation. Of 26 economists who predicted in a March 6-11 Bloomberg survey that the central bank would raise the benchmark rate in June, 19 had pushed their forecast to July or later when polled earlier this month.
Over the next month, data on three days — April 17, April 30 and May 8 — will lower the bar for a June hike, said Sharif.
"All these pieces that have been missing are starting to come together," said Sharif. "That should put to rest a fair bit of the arguments against inflation preventing the Fed from going."
Here's what Sharif says to expect:
1. April 17: Consumer Price Index
Given that Fed officials have said the effects of the slump in oil prices are "transitory," a focus on the core consumer price index from the Bureau of Labor Statistics will be especially useful in gauging the underlying inflation trend. Sharif sees that index increasing 0.2 percent in March for a third consecutive month and holding steady at 1.7 percent on a year-over-year basis.
That'd help ease concern that inflation is in danger of retreating further from what Fed officials deem is a healthy level as the dollar rises. While the Fed's target is based on growth in the personal consumption expenditures price index (and we'll get to that later), the core indexes in both CPI and PCE have shown underlying inflation to be underperforming the 2-percent goal for most of this expansion: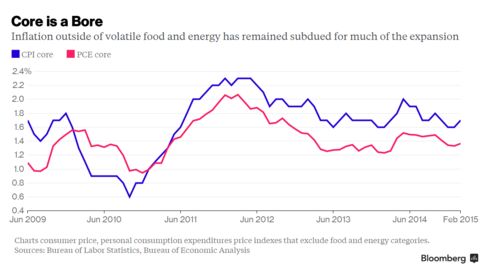 So why can we be hopeful that CPI will give us good news on April 17 and beyond?
For starters: "A lot of prices are immune to a lot of the things that we discuss now as being negative, like oil and the dollar," Sharif said. The cost of services that make up the bulk of the CPI index "are still continuing to rise at a pretty moderate clip" and have little connection to currency moves as some core goods prices do.
There's also little reason to believe that any sort of weak demand would depress inflation, he said. Most of the prices in the index aren't determined by big swings in the economy — hospital visits or college tuition, for instance.
Those prices that are more cyclical make up only about 13 percent of the core CPI index: clothing, airfare flights, new cars, used cars and hotel rooms. Again, no reason to fear: "there's an element of somewhat better demand driving these things" of late, Sharif notes.
2. April 30: Employment Cost Index and Personal Consumption Expenditures Price Index
Two separate reports on the last day of the month will add fuel to the inflation fire. The quarterly employment cost index from the Bureau of Labor Statistics, which typically leads other wage measures, has been showing more signs of life than the widely-known average hourly earnings figures: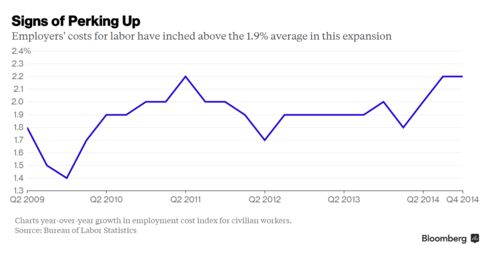 The ECI gauge probably jumped 2.7 percent in the first quarter from the same time last year, Sharif estimates. In addition to evidence of a tightening labor market, part of the acceleration will be because a very weak reading in the first three months of 2014 will drop out of the calculations, Sharif said.
For a hint on the average hourly earnings number due May 8, Sharif advises to look at the wages and salaries index for private workers within the ECI report, as both remove government workers from the calculation. That ECI gauge probably will show its best quarter-over-quarter reading since December 2008, indicating wages are "bubbling up," he said.
Also due that day is the personal income and spending report from the Bureau of Economic Analysis, which gives us the Fed's preferred measure of inflation, PCE. Sharif sees the core index for that gauge holding at 1.4 percent on a year-over-year basis, helping calm inflation naysayers.
3. May 8: Average Hourly Earnings
The most commonly cited measure of wage growth, average hourly earnings, will match the biggest gain since October 2009, Sharif said. The projected 2.3 percent year-over-year rise would benefit as a very weak reading — a zero, in fact — from April 2014 drops out. See the slow rise: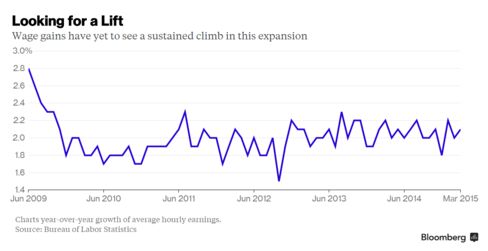 That 2.3 percent still would be short of the 3-to-4-percent range that Fed Chair Janet Yellen has said she considers "normal" when inflation also is at target. Yet as policy makers have reminded us, it's more important that they feel secure in the path of wages and inflation, rather than meeting the goals before a rate increase.
"She's not going to wait to get to 3 to 4 percent — she just needs to know that that's the direction we're going in and we're not sliding from here," Sharif said.
Before it's here, it's on the Bloomberg Terminal.
LEARN MORE