This Year's Summer Box Office Could Be the Largest Ever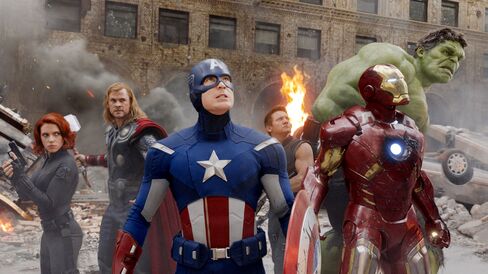 The summer box office is looking especially ripe for Walt Disney and Universal Pictures as industry sales for the season head toward a record $5 billion.
Disney kicks things off May 1 with Avengers: Age of Ultron, a sequel that could be the biggest film of the summer and possibly the year, and also has Inside Out, its first Pixar feature since 2013. Universal's Jurassic World opens June 12 and the animated Minions a month later.
Those four alone could sop up about 30 percent of ticket sales this summer, the busiest time for theaters, based on estimates by BoxOffice.com. The robust slates from Disney and Comcast's Universal mean a tougher slog for competing films even in a season that researcher Rentrak says will set a record, rising as much as 20 percent and beating the $4.75 billion mark set in 2013.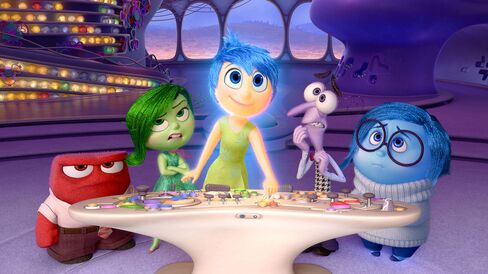 "Universal and Disney clearly have the best films this summer," said Eric Wold, an analyst who follows theater chains for B. Riley & Co. "Those are the two leaders — and Fox and Warner Bros. have nothing of the size to compare."
The latest from Disney's Marvel Studios, Age of Ultron will open with domestic weekend sales of $217 million, breaking the record set by its predecessor The Avengers, which collected $207 million, according to BoxOffice.com. Chief analyst Phil Contrino said it could generate $567 million in U.S. and Canadian cinemas. Ultron is outselling the first Avengers in advanced ticket sales, according to Fandango.
Pixar's all-new Inside Out is forecast to record $60 million in first-weekend sales and $250 million during its domestic run in theaters, which would make it the summer's fourth-biggest. The animated feature, in theaters June 19, tells the story of a girl whose emotions come to life in her head, with voices provided by comics Amy Poehler and Mindy Kaling.
Disney's other summer releases are Ant-Man, from its Marvel catalog, and Tomorrowland, a George Clooney film named after one of the company's amusement-park attractions.
Disney and Universal declined to comment on their summer movies.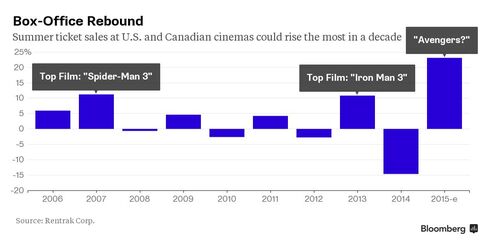 Ticket sales for all of 2015 are widely predicted to set a record, with domestic revenue possibly growing as much as 6 percent to more than $11 billion.
Reaching that number hinges on summer films — releases from May 1 to Labor Day weekend that typically account for 40 percent of the annual box office. In past years, studios have released big films in April to avoid cannibalizing each others' ticket sales.
"The strength of Disney and Universal's film slates combined implies this summer will be a record high and could push the year to a record high," said Laura Martin, a media analyst at Needham & Co.
This summer's sales will benefit from a mix of sequels and new pictures that could spawn their own long-running series, Contrino said. "Some of the best franchises that exist are hitting right in the summer."
Universal's slate may be led by Minions, a spinoff based on the small yellow creatures from the hit Despicable Me films. According to BoxOffice.com, the movie will be the second-biggest of the season, with $90 million in its first weekend and $375 million over its full run. It opens July 10.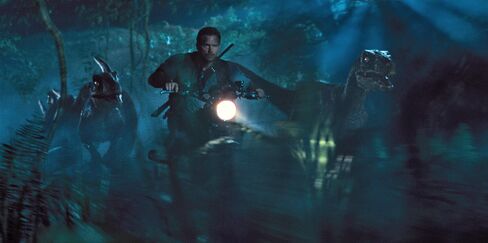 Jurassic World, the reawakening of the Steven Spielberg's Jurassic Park franchise, will garner $85 million in its debut and $260 million in total in North America, according to BoxOffice.com. It stars Chris Pratt and Bryce Dallas Howard.
Universal's advantage is the breadth of its summer offerings, including six under its namesake brand and four from its Focus Features unit. Among them: sequels to the lower-budget hit comedies Ted, with Mark Wahlberg, and Pitch Perfect. "It covers a lot of the audience," Contrino said.
Disney and Universal won't have the summer all to themselves. Paramount Pictures, owned by Viacom, revives the Terminator series with "Terminator Genisys" on July 1 and follows four weeks later with Mission: Impossible — Rogue Nation, starring Tom Cruise. The latter's forecast to be the summer's fifth biggest, generating $210 million in U.S. and Canadian ticket sales, according to BoxOffice.com. Paramount declined to comment.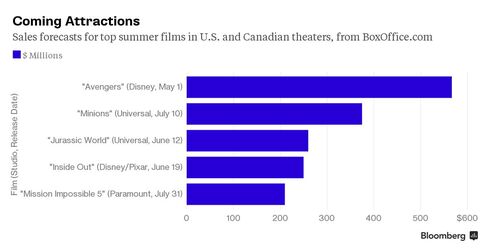 Universal and Disney will probably overtake Time Warner's Warner Bros. and 21st Century Fox's film unit as domestic leaders in the second half of the year, Martin said.
Warner Bros. had its best first quarter ever with the success of American Sniper, said Dan Fellman, president of domestic distribution for Warner Bros. film unit. Unlike 2013, when it led the summer, the studio this year will be without films based on D.C. comics.
Fellman predicted Magic Mike XXL would be one of the summer's hits. The studio also has a reboot of the Mad Max series called Mad Max: Fury Road, with Tom Hardy and Charlize Theron. It'll be released May 15.
"I anticipate we'll have a strong summer even without a traditional franchise film," Fellman said.
The first Magic Mike was a 2012 summer hit, collecting $167.2 million worldwide and costing just $7 million to make.
Fox, which led the box office in 2014 with X-Men and Planet of the Apes, has the Marvel-based The Fantastic Four this summer and the new comedy Spy. "Our calendar year likely won't beat last year's, which was the biggest in our history, but 2015 will still be one of our top years at the box office," Chris Aronson, president of domestic distribution for Fox's film division, said in an interview.
Sony's major releases this summer include Pixels, featuring Adam Sandler and Kevin James. The studio's top film this year is likely to be the James Bond feature Spectre, due in November. The studio declined to comment on its slate.
Martin said all the studios could gain from a record summer. "Theater traffic begets more theater traffic," she said. "It is not a zero sum game."
Read this next:
Before it's here, it's on the Bloomberg Terminal.
LEARN MORE