Sweden Sees Scant Room for Wage Increases Amid Productivity Drop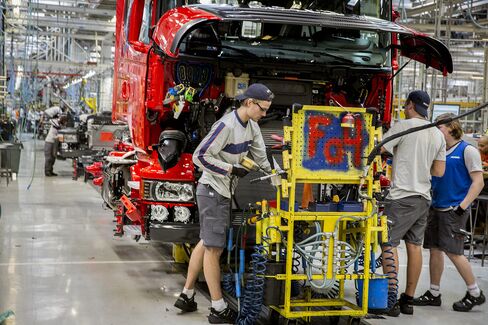 Sweden's government said weak productivity growth may cap wage increases as the largest Nordic economy prepares for collective wage negotiations that are seen as crucial to the central bank's fight to lift inflation.
"The effect of having almost zero productivity growth in the Swedish economy means that there's less scope for salary allocation, or profit margins to allocate to shareholders," Enterprise Minister Mikael Damberg said in an interview in Stockholm on Monday. "If one doesn't address the productivity in Sweden, wage negotiations will become more difficult and shareholders could also be affected in the longer term."
To help the economy, Prime Minister Stefan Loefven and Damberg on Monday announced a 1.49 billion-krona ($169 million) investment program spanning five years to boost competitiveness, lift exports, improve the business environment and help companies secure funding.
"Our productivity is too low," Loefven said at the announcement. "There's not enough output from research investments. We're investing a lot in research but we're not producing enough new goods and services."
Unions and employers are starting to position themselves as collective-bargaining agreements for some 3 million public and private workers expire in 2016.
Michael Bostroem, chief analyst at Danske Bank A/S in Stockholm, has said that "it might become nearly impossible to get inflation back to target" if next year's wage talks result in agreements with lower wage increases than the current deals.
Uncharted Measures
The Riksbank last month cut its benchmark rate to a record minus 0.25 percent and added to a bond-purchasing program. The bank is resorting to uncharted measures after consumer prices fell for most of last year and inflation is far below its 2 percent target.
"The Riksbank has a goal of 2 percent inflation and it's reasonable that the Riksbank does what it can to reach that target," Damberg said. "Right now, the Riksbank has done quite a lot to reach the target. It would of course be good for the Swedish economy if it succeeded."
Employers are signaling they will be unwilling to help the Riksbank in boosting inflation.
The Confederation of Swedish Enterprise and the Association of Swedish Engineering Industries argue that excessive increases in recent years have hurt competitiveness and profit margins.
"Swedish companies will never be able to compete in a global market with only low costs," Damberg said. "We have to compete with quality, productivity, innovation. It's when we manage this that we'll also be internationally competitive."
At the same time, unions such as the Swedish Trade Union Confederation LO has said that the labor market must join forces to help the Riksbank boost inflation and that wage negotiations must be based on the bank's inflation target.
Damberg said he is confident the two sides can agree.
"At the beginning of the wage negotiation process, there is normally tension, but historically, Sweden has been able to handle wage negotiations responsibly and I hope this will also be the case this time," he said. "I'm sure our system with strong labor market stakeholders can handle this situation."
Before it's here, it's on the Bloomberg Terminal.
LEARN MORE