Asia's Bankers Settle for Steady Pay While Global Firms Retreat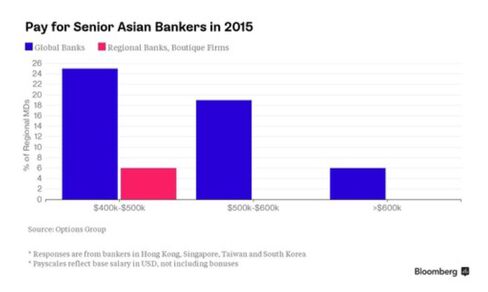 A steady paycheck.
That's what senior bankers say they get from Asian banks, instead of the higher but less dependable salaries on offer at more glamorous global rivals, according to Options Group Inc.
Six percent of the managing directors working for regional banks and boutique financial firms in Hong Kong, Singapore, South Korea and Taiwan are poised to earn base salaries of $400,000 or above this year, according to a survey by the New York-based recruiter. By comparison, half of their peers at global banks will get at least that amount, the survey shows.
Bankers at regional firms may be happier to hang around for lower pay as firms from Standard Chartered Plc to Royal Bank of Scotland Plc wind back their operations to bolster profitability. Domestic banks are starting to win more business, with three Southeast Asian firms including Malayan Banking Bhd. ranking among the top five managers of the region's equity deals for the first time in 2014.
"Local banks, given that the region is their headquarters, are clearly committed," Jessica Lee, director of Options Group's consulting division, said April 10 by phone. "For a senior professional, if the financial services environment looks uncertain, there is a perception that local banks might offer greater job stability versus a global bank that might exit or shrink its business in the region."
Options Group polled 3,190 finance professionals worldwide between Jan. 29 and March 9. About 49 percent of the financiers were employed at banks, with the rest working for asset managers, brokerages, insurance and trading firms.
Job Cuts
Half of the managing directors and directors at regional banks and boutique firms in Asia are expecting to boost headcount in the next year, compared with 41 percent at global banks, the survey showed.
Standard Chartered and RBS, both based in the U.K., have been shutting or selling businesses to restore profits. Goldman Sachs Group Inc. is reducing the size of its investment-banking team in Singapore by about 30 percent compared with the start of the year, people with knowledge of the matter said last month.
Some Asian firms are also trimming employee numbers -- CIMB Group Holdings Bhd., Malaysia's second-largest lender, reduced jobs in Hong Kong, Taiwan, India and South Korea earlier this year, people familiar with those departures said.
Last year, when other forms of compensation were included, the percentage of managing directors at regional banks that earned $500,000-$750,000 at regional banks matched global firms at 25 percent, the Options Group data show. A third of global bank MDs earned $750,000 and higher last year, compared with 30 percent at regional and boutique firms.
Top Talent
Still, just 23 percent of the finance professionals in Hong Kong, Singapore, South Korea and Taiwan said they're "compensated fairly," according to the survey. That's less than 39 percent in Japan, 26 percent in the U.S and 27 percent in the U.K., the data show. No historical data was provided.
"Given the war for strong local talent, any banks operating in this competitive market are increasingly having to pay up for top talent," said Malini Vaidya, who manages the Southeast Asia region at Spencer Stuart from Singapore. The firm focuses on recruiting top-level executives.
Before it's here, it's on the Bloomberg Terminal.
LEARN MORE