Iran Seeks Russian Missile System This Year as U.S. Objects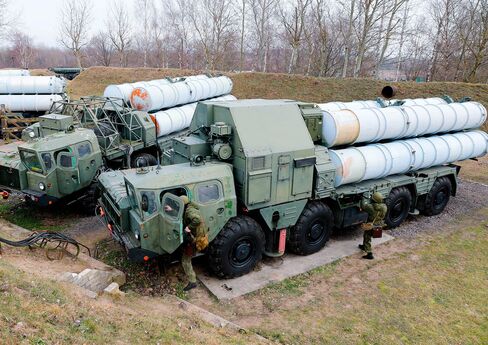 Iran is pushing to take delivery of Russian air-defense missile systems, as the U.S. and Israel criticized the move as a threat to security in the Mideast.
It expects to get the S-300 systems from Russia this year, Ali Shamkhani, the secretary of Iran's Supreme National Security Council, said in Moscow on Tuesday, according to the official Islamic Republic News Agency.
Russian President Vladimir Putin on Monday repealed a self-imposed 2010 prohibition on exporting the S-300 to Iran, adding a wrinkle to U.S. President Barack Obama's fight to win domestic support for a deal on Iran's nuclear program. The Kremlin has maintained its right to supply the weapons, saying the $800 million contract signed in 2007 didn't breach a United Nations embargo on arms sales to Iran that was agreed on in 2010.
"From a legal point of view, after the signing of the decree, there are no restrictions any longer," Dmitry Peskov, Putin's spokesman, said during a call with reporters on Tuesday. He declined to give a timeline for the start of the transfer.
Putin told Israeli Prime Minister Benjamin Netanyahu in a phone call that the S-300 system "has a purely defensive purpose" and won't threaten Israel's security, according to a Kremlin statement on Tuesday.
Delivery Question
Russia's threat to sell the S-300 to Iran will increase opposition in Congress to the nuclear agreement, said Cliff Kupchan, chairman of New-York based Eurasia Group, which monitors political risk. "Putin's strategy is to get a deal while making life as hard as possible for Obama," he said in an e-mailed note.
Iran is "very happy" about Putin's decision to repeal the ban and delivery will be good for regional stability, Iranian Foreign Minister Mohammad Javad Zarif said during a visit to Spain on Tuesday.
Delivery depends on the manufacturers and work will take at least six months, the Interfax news service reported, citing Russian Security Council Secretary Nikolai Patrushev.
Iranian Defense Minister Hossein Dehghan will probably discuss supply terms during a visit to Moscow this week, Russia's state-run RIA Novosti news service reported, citing an unidentified ministry official.
U.S. Concerns
Russia's decision to repeal its ban has drawn objections from the U.S. and sharp criticism from Israel. Secretary of State John Kerry has directly conveyed U.S. concerns to his Russian counterpart, Foreign Minister Sergei Lavrov, the White House said Monday.
The missile system, if ultimately delivered, would boost Iran's defense against any potential attack on its nuclear program, while giving Russia a commercial opening if economic sanctions against the Islamic Republic are eventually rolled back. Russia is already supplying goods to Iran in exchange for oil, Peskov confirmed.
"These systems won't make Iran invincible but they will significantly increase the cost of any military operation against it," said Vasily Kashin, a senior research fellow at the Center for Analysis of Strategies and Technologies in Moscow. "It would require committing more forces and inevitably result in losses."
The S-300 isn't likely to be operational before 2017, long past the deadlines for Iran to comply with restrictions in a nuclear agreement, Kashin said.
'Advanced Weapons'
Israel warned the Russian decision would allow Iran "to arm itself with advanced weapons and increase its aggression."
"This is a direct result of the legitimacy that Iran receives through the nuclear deal," Israeli Strategic Affairs and Intelligence Minister Yuval Steinitz said in a text message. "It is proof that economic growth in Iran would follow the removal of sanctions, which it would exploit to arm itself and not for the welfare of the people of Iran."
Iran and representatives of Russia, the U.S., China, France, Germany and the U.K. said April 2 that they'd negotiated a political framework in a step toward ensuring the Islamic Republic's nuclear program is restricted to civilian development and can't be used to build a bomb. The deadline for a final agreement has been set at June 30. Iran denies it's seeking to develop nuclear weapons.
Given the tensions in the Mideast, especially in Yemen, Iran has a vital need for modern air-defense systems, Lavrov said.
Mideast Tensions
The conflict in Yemen has led to an escalation of tensions between Shiite Iran and Saudi Arabia and its mainly Sunni allies. Saudi Arabia and its Gulf Arab allies accuse the Islamic Republic of sending weapons to Yemen's Shiite Houthi rebels, a charge Iranian officials have denied.
The Saudis have become increasingly alarmed at Iran's growing influence in Middle Eastern flash-points, where Iran often finds itself on the same side as Putin's Russia.
"This would be a message for strengthening stability in the region, given the important role that Iran plays," Shamkhani said, according to the IRNA. He said Iran will withdraw a lawsuit for breach of contract once Russia delivers the S-300, according to Interfax.
The Russian decision comes as Obama tries to head off moves by the U.S. Congress to give itself authority to accept or reject a final nuclear deal with Iran. The Senate Foreign Relations Committee is scheduled Tuesday to consider bipartisan legislation to give Congress a say in approving an accord.
Putin's move is "likely intended to pressure the west in nuclear talks, position Russia for trade with Iran, and poke a finger in Washington's eye," Kupchan, of Eurasia Group, said.
Before it's here, it's on the Bloomberg Terminal.
LEARN MORE