Pakistan Seeks to Calm Relations With Gulf States Over Yemen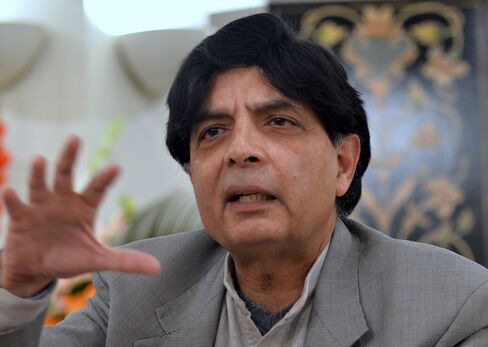 Pakistani Prime Minister Nawaz Sharif sought to soothe relations with key Gulf allies after his country's refusal to join a coalition of Sunni-led Muslim nations fighting in Yemen triggered a rift with trading partners that supply most of its oil.
"Pakistan does not abandon friends and strategic partners especially at a time when their security is under threat," Sharif said Monday in a televised speech in Islamabad. "My government continues to follow the policy of fortifying and strengthening the bonds of friendship with the Gulf countries."
His comments came after Anwar Mohammed Gargash -- second-in-charge at the United Arab Emirates' foreign ministry -- said over the weekend that Pakistan would pay a "high cost" for its "contradictory and ambiguous stance."
The spat shows the risks oil-dependent Pakistan faces in trying to avoid taking sides in the battle between Yemen's Shiite Houthi rebels, who are backed by Iran, and the group of Arab nations. Saudi Arabia and the U.A.E. provide almost all of Pakistan's oil, according to a petroleum ministry official who asked not to be identified because the data aren't public.
Pakistan's parliament passed a unanimous, though non-binding, resolution on April 10 declaring support for Saudi Arabia's "territorial integrity," but falling short of accepting a demand from Riyadh's leadership to send ground, air and sea troops to fight the Houthis.
Pakistan's benchmark KSE100 Index fell 0.3 percent Monday, partly in reaction to Gargash's remarks.
'Shoulder to Shoulder'
"Some concerns on the tension developing with U.A.E.," Baryalay Arbab, head of equity at KASB Securities Ltd., wrote in an e-mail. "Good chunk of remittances come from the GCC," he said, referring to the Gulf Cooperation Council, to which both Saudi Arabia and the U.A.E. belong.
The Pakistani government has been in touch with Saudi Arabia and its allies in the GCC "to assure them that their disappointment was based on an apparent misinterpretation of parliament's resolution," Sharif said Monday. "Our firm assurance to our Saudi brothers is that we shall stand shoulder to shoulder with them."
He reiterated that any violation of Saudi territorial integrity would provoke a "strong response" from Pakistan.
Pakistani Interior Minister Chaudhry Nisar Ali Khan on Sunday had called Gargash's remarks "threatening, unacceptable and an insult to the Pakistani nation," according to a report in Dawn newspaper.
Remittances
The April 10 parliamentary vote came shortly after Pakistan hosted Iranian Foreign Minister Mohammad Javad Zarif in Islamabad. Saleh bin Abdul-Aziz, Saudi Arabia's Islamic affairs minister, arrived in Pakistan's capital late on Sunday for urgent talks on Yemen, the Dawn reported.
Besides oil, Saudi Arabia and the U.A.E. host several million Pakistanis who work in jobs like construction, making them the top providers of remittances. The emirates are also preferred destinations for Pakistanis to invest in real estate, according to Mirza Ikhtiar Baig, who heads the Pakistan-U.A.E. Business Council based in Karachi.
"We have commercial interests in the United Arab Emirates which we do not want to see hurt," Baig said by phone. "A government delegation should go there and explain our stance and hold closed-door meetings to calm the U.A.E. government."
Many Pakistani lawmakers said that picking sides would fuel sectarian conflict in the country, which is already fighting militants. While the majority of Pakistanis are Sunni, the nation is home to the most Shiite Muslims outside of Iran and Shiite mosques have been regular targets of terrorist attacks in Pakistan in recent years.
Before it's here, it's on the Bloomberg Terminal.
LEARN MORE