Goldman Sees Further Rally in Sberbank on Rates, Ruble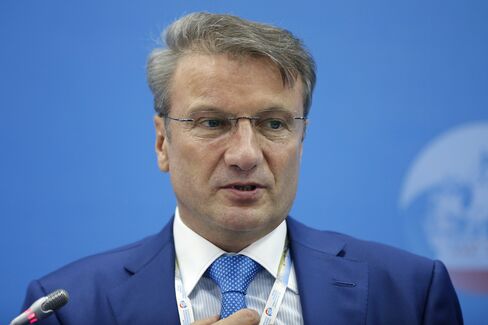 OAO Sberbank, the Russian lender that has rebounded 46 percent after last year's record annual decline in U.S. trading, will probably continue to rally as the central bank cuts interest rates, according to Goldman Sachs Group Inc.
The company's American depositary receipts jumped 3.5 percent to $5.64 in New York on Monday as Goldman said Russia may reduce rates aggressively as the ruble strengthens. The analysts highlighted Sberbank as the lender best positioned to benefit from the moves. The stock sank 69 percent in 2014 as sanctions linked to the Ukraine conflict and plunging oil prices hurt economic growth.
The central bank, which had raised the benchmark lending rate to 17 percent in December to stem a rout in the ruble, has since reduced it to 14 percent. Goldman, in an e-mailed research note, said they may lower it by an additional 600 basis points, or 6 percentage points, this year, and a further 100 basis points to 7 percent in 2016 as the ruble rebounds.
"Declining inflation and a stronger ruble will lead the Central Bank of Russia to cut rates, which should result in better net interest margins, lower provisions, and a revival in credit growth for the Russian banks in general and Sberbank in particular," Dmitry Trembovolsky, a Moscow-based analyst at Goldman, said in an April 13 note. "Sberbank's valuation is still very attractive."
Relative Value
Sberbank's Moscow-traded shares sell for 8.6 times projected 12-month earnings, according to data compiled by Bloomberg. That's the lowest among 16 global peers, which trade at an average multiple of 10.9.
Trembovolsky increased his target price for the Moscow shares to 100 rubles, or $1.90, from 98 rubles, implying a potential 35 percent gain from Monday's closing level. Fourteen analysts recommend buying the stock, while nine rate it hold and three say sell.
Marina Karapetyan, analyst at Alfa Bank in Moscow, said she has put her buy rating under review.
"We are convinced the rally is over as the economy is slowing," Karapetyan said by phone on Monday. "It doesn't look attractive unless there is a major positive factor, such as removal of sanctions against Russia, or a rally in oil."
While Russian assets have rebounded from last year's plunge, gross domestic product is still forecast to contract 4.05 percent this year, according to the median estimate of 44 economists surveyed by Bloomberg.
Quarterly Profit
Sberbank's Chief Executive Officer Herman Gref said at an April 10 meeting with President Vladimir Putin in Moscow that the lender won't use a 600 billion ruble ($11.5 billion) loan planned as aid by the central bank since December as circumstances have improved.
"We had anticipated that the situation could have developed quite dramatically this year," Gref told Putin, according to a transcript of the meeting posted on the Kremlin's official website. "We had very difficult December and January. But today, we have assessed the situation and decided to refuse the aid -- we won't need the loan."
Gref said the lender has reported 26 billion rubles of net income in the first quarter by Russian accounting standards after initially planning for a loss, according to the transcript.
The Bloomberg Russia-US Equity Index jumped 1.1 percent to 63.33 on Monday. The Market Vectors Russia ETF, the biggest exchange-traded fund tracking the country's stocks, increased 2.1 percent to $19.21. United Co. Rusal fell 1.6 percent to HK$4.87 at 10:39 a.m. in Hong Kong.
Before it's here, it's on the Bloomberg Terminal.
LEARN MORE