GE's Once-Sleepy Stock Turns Volatile on Finance Exit Plan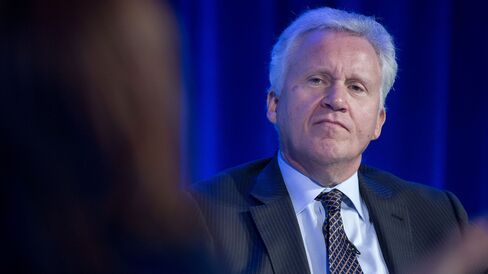 One of the least-volatile stocks on the Dow Jones Industrial Average is getting all shook up.
General Electric Co. posted its biggest decline since February 2014 on Monday, the first trading day after its biggest surge in more than five years. The two-day stretch, driven by GE's April 10 decision to sell off most of its finance arm, signaled investors are reconsidering a once-sleepy stock.
"You're going to have a big change in the shareholder base -- GE was quite a bit under-owned by institutions, and it's widely owned by individuals," said Jack De Gan, chief investment officer of Harbor Advisory Corp., which owns about 100,000 GE shares. "I do think we end up, certainly in the short term, with more volatility as people try to figure out where all the chips are going to land."
Chief Executive Officer Jeffrey Immelt plans to divest most of GE Capital, starting with an agreement to sell off real estate assets and then the bulk of its commercial and consumer lending operations. Fairfield, Connecticut-based GE also announced approval of a buyback of as much as $50 billion.
The shares fell 3.1 percent to $27.63 at the close in New York on Monday. GE, which plans to focus on its industrial units making products such as gas turbines and jet engines, had been the fourth-least-volatile stock in the Dow before news of its real estate sale and the GE Capital retrenchment, according to data compiled by Bloomberg over the last 12 months.
Sold Short
GE's 11 percent gain on Friday may be creating a so-called short squeeze, meaning traders who were betting against the company suddenly have to cover their positions at the higher price -- potentially lending some unpredictability to the stock. About 18 million shares are sold short.
While that's only about 0.2 percent of the total outstanding, it's still more than double what it was at the end of last year, according to data compiled by Bloomberg and Markit. By comparison, the average short interest level for the Standard & Poor's 500 Index is 2.3 percent.
Trading volume jumped Friday to more than 10 times the 12-month daily average, with 353 million shares changing hands, on news of GE's finance sell-off. That suggests large investment firms were forced into "panic buy-ins," said Deane Dray, an analyst with RBC Capital Markets.
'Equation Changed'
"That's not retail; that's big institutional owners need to true up their positions," he said. After many portfolio managers avoided holding substantial stakes in a stock that had trailed the broader market, "that equation changed on Friday."
Steven Winoker, an analyst with Sanford C. Bernstein & Co., raised his projection Monday for GE's 12-month price to $33, up from $30, saying "there is more room to run here on a compelling narrative." Shannon O'Callaghan at UBS AG increased his target to $32 from $30, while William Blair & Co.'s Nicholas Heymann boosted his prediction to $30 from $29.
"Management has been making bold moves and we have to applaud the effort," Winoker said in a note. "We have to view Friday's announcement as an overwhelming positive for the company strategically over a long time frame and to the stock in the near term."
Before it's here, it's on the Bloomberg Terminal.
LEARN MORE