Ex-Blackwater Guard Gets Life in Prison for Baghdad Shooting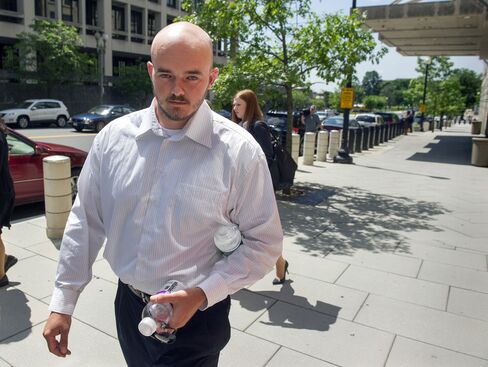 A former Blackwater Worldwide guard convicted of murder for his role in the 2007 killing of 14 unarmed civilians in a Baghdad traffic circle was sentenced to life in prison.
Three other ex-guards received 30-year terms for the massacre in Nisour Square that inflamed anti-American sentiment and led to curbs on U.S. military contractors. The incident ranked with the killings of 24 civilians at the city of Haditha and the abuse of detainees at the Abu Ghraib prison as stains on U.S. efforts in Iraq.
Nicholas Slatten, 31, of Sparta, Tennessee, was convicted of murder in October by a federal jury of eight women and four men in Washington. Three of his co-workers, Paul Slough, 35, Evan Liberty, 32 and Dustin Heard, 33 were convicted of gun charges, manslaughter and attempted manslaughter and were sentenced Monday after Slatten.
U.S. District Judge Royce Lamberth lauded the government for putting together a case that "by and large found and exposed and delivered to the world a trial where the truth of what happened at Nisour Square was out there."
Lamberth was moved by the show of support for the men, all four of them U.S. military veterans. About 80 people, some wearing T-shirts emblazoned with Raven 23, the defendants' Blackwater unit, filled most of the Washington federal courthouse's largest courtroom and family and friends spoke on their behalf.
"I sentence people every day -- they don't have anybody in the courtroom," Lamberth said. "It's an extraordinary case."
The defendants "overall appear to be good young men" who "just panicked," Lamberth said.
'Firing Wildly'
Still, Lamberth said, actions such as "firing wildly into cars going in the other direction" are serious offenses that "just cannot ever be condoned by the court."
Before sentencing, Lamberth heard from an Iraqi wounded by the Blackwater guards and from the family of 9-year-old Ali Razzaq, who was killed in the Sept. 16, 2007, incident.
Mohammed Kinani, the boy's father, said the trial was a test of whether Blackwater was above the law.
"Today, we will see who wins, the law or Blackwater," Kinani, who said he was in the process of becoming a U.S. citizen, told the judge. "A lot of American soldiers die because of what Blackwater did."
Kinani's wife, Fatimah, stood before Lamberth with a picture of her slain son. Turning to the defendants, she sobbed, saying through an interpreter, "Why did you guys do this to me?"
Boy's Brother
Ali's brother, Abdulrazzaq, 22, looked at the defendants and said, in English, "Do you know my brother?" He said his brother "loved the American army," was a good student and wanted to be a soccer player or a police officer.
"They killed innocent people. They killed my brother. Women and kids," Abdulrazzaq said.
All four denied the crimes.
Slatten asked Lamberth to throw out his murder charge, arguing that ammunition found at the scene of the shooting didn't match the kind of ordnance he was using.
"Give me justice and give me a judgment of acquittal," he asked Lamberth.
"I fully support the verdict of the jury," Lamberth said, as he sentenced Slatten for first degree murder.
Slatten set off the carnage by killing a driver with a rifle shot from his perch in an armored vehicle, prosecutors said.
'Ambivalent' Jury
Slatten's lawyer, Thomas Connolly, criticized the makeup of the jury that convicted the guards. The jurors didn't come from from small towns and rural areas similar to where the defendants were from and may have been "ambivalent toward gun culture and ambivalent about the military," he said.
"This was not a jury of their peers," Connolly said. "This was the jury the government wanted."
Slough, of Keller, Texas, told Lamberth, "I feel utterly betrayed by the government I served honorably."
"I cannot say to the court that in all honesty I did anything wrong," said Heard, of Maryville, Tennessee.
Lawyers for the men said they will appeal.
Lamberth rejected a defense request to forgo mandatory 30-year sentences on weapons charges against Slough, Heard and Liberty, of Rochester, New Hampshire.
Machine Guns
The 30-year term was linked solely to the men's use of machine guns and other heavy weaponry issued by the government and required for their work, defense lawyers said in a filing days before sentencing. They argued it was disproportionate and violated the Constitution's prohibition against cruel and unusual punishment.
"I'll take the words of Congress and apply them," Lamberth said. "I find the penalty is not excessive."
But in a bid to strike a balance between punishment and recognition of good service records and character references, Lamberth essentially wiped out manslaughter penalties for Slough, Heard and Liberty. Those counts carried a penalty of 10 years. The judge did the same for charges of attempted manslaughter, which have a maximum penalty of seven years.
The three were sentenced to one day for each of the multiple counts of those charges, to run concurrently.
Lamberth said he was fashioning the sentence this way with the understanding that he could re-sentence the former guards for manslaughter if an appeals court rules that 30 years on the gun charge is excessive.
'Pointed Fingers'
Prosecutors sought 47 years to 57 years on the manslaughter and weapons charges for the three.
"These men have refused to accept any responsibility for their crimes," prosecutor Patrick Martin told the court before sentencing. They "repeated false narratives" and "pointed the fingers at others when they themselves are to blame," Martin said.
Blackwater, which had been among the most prominent military contractors in Iraq, was banned from the country after the deaths.
The company changed its name to Xe Services LLC in 2009. Founder Erik Prince sold his stake in 2010 to an investor group that changed the name in 2011 to Academi LLC, now based in Reston, Virginia.
The cases are U.S. v. Slatten, 14-cr-00107, and U.S. v. Slough, 08-cr-00360, U.S. District Court, District of Columbia (Washington).
Before it's here, it's on the Bloomberg Terminal.
LEARN MORE