Citigroup Names Bird Consumer Chief to Succeed Medina-Mora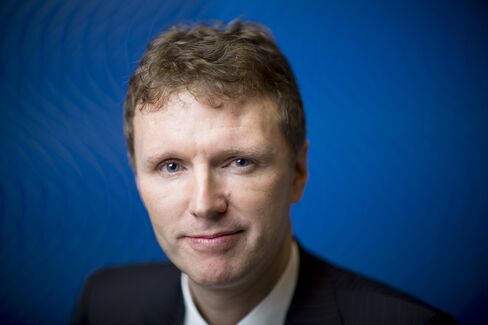 Citigroup Inc. Chief Executive Officer Michael Corbat named Stephen Bird to run the global consumer bank, choosing a 17-year veteran with international experience to run a business with $36 billion in annual revenue.
Bird, 48 and the CEO for the Asia Pacific region, will assume the new role as of June 1, the New York-based bank said Monday in a memo to employees. He'll replace Manuel Medina-Mora, 64, who's retiring.
Bird must follow through on Corbat's plan to simplify the business, moving two dozen markets onto a single technology system that gives a common consumer experience regardless of location. He'll also oversee the world's biggest portfolio of consumer credit-card loans. As head of Asia Pacific, Bird drove the bank's second-biggest region to post record revenue in last year's third quarter.
"Of all the choices, it was the best and smartest choice" for Corbat to make, Charles Peabody, an analyst at Portales Partners LLC in New York, said in an interview. "Appointing Bird shows he's picking the right person and not his power structure, and he's picking someone with international experience."
Bird joined Citigroup in 1998. He has run consumer banking in Asia and the credit-card business in Japan, as well as operations and technology in Latin America. The bank often chooses Asia, which he has run since 2012, to test and roll out new consumer offerings such as branches or digital products.
Profit Increase
"In various roles in Asia, Stephen has helped establish Citi as a leading bank, significantly increasing net income by focusing on target clients across the region," Corbat said in the memo.
Corbat passed up Jud Linville, 57, head of the credit-card unit, and Jane Fraser, 47, CEO of U.S. consumer and commercial banking, who were said to be on his shortlist for the promotion. Fraser instead will become CEO for Latin America, which now includes Mexico. Linville wasn't mentioned in today's memo.
Corbat has previously called upon Fraser to fix an ailing business. Corbat named her in 2013 to restructure the mortgage operation, and now she must resolve the legal issues at the Mexico unit, which is grappling with probes into money-laundering controls and an alleged fraud disclosed last year that reduced 2013 earnings by $235 million.
Hong Kong
Fraser replaces Francisco Aristeguieta as he takes Bird's former job, according to the memo. Bird will relocate to New York from Hong Kong, while Fraser moves to Miami from New York. Aristeguieta is relocating to Hong Kong from Miami. All three report to Corbat.
Medina-Mora, who's led the global consumer bank since 2011, will retire on June 1, Corbat said in a Feb. 20 memo. He will remain non-executive chairman of the Mexican unit, known as Banamex. The CEO for Mexico, who had reported to Medina-Mora, will now report to Fraser as head of Latin America.
Medina-Mora's departure leaves Jamie Forese, head of the unit that includes investment banking, trading and transaction services, as the president of Citigroup. The two shared the title since Corbat gave it to them in 2013.
The global consumer-banking division earned $6.82 billion last year, a 3.7 percent increase over 2013.
"Bird has basically overseen growth territories and that's what the global consumer bank is supposed to be moving toward, a growth vehicle," Peabody said. "Now the question is, can they execute?"
Before it's here, it's on the Bloomberg Terminal.
LEARN MORE