China Merchants Bank Soars Most in 6 Years on Incentive Plan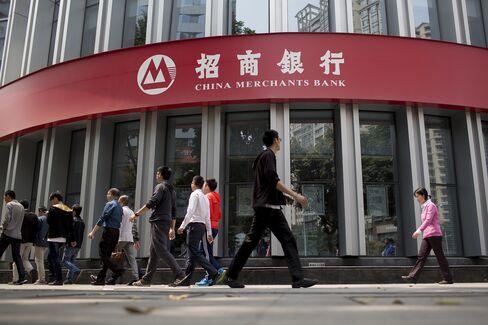 China Merchants Bank Co. shares surged as much as 20 percent in Hong Kong, set for the biggest gain in more than six years, after the lender announced an employee stock incentive plan.
The company's shares rose by the 10 percent daily limit in Shanghai. Merchants Bank will raise as much as 6 billion yuan ($967 million) in a private placement to no more than 8,500 employees, the Shenzhen-based company said late Friday.
Ping An Bank Co. may be among the next lenders to join Merchants Bank and China Minsheng Banking Corp., the nation's first private bank, in pressing ahead with incentive plans, according to China International Capital Corp. Bigger rivals Bank of Communications Co. and Bank of China Ltd. have signaled intentions to follow suit when the government permits.
The moves fit with the government's calls to increase the role of the markets in the economy -- by aligning staff interests with share performance -- and come amid curbs on the pay of senior managers appointed to banks by the central government.
In Hong Kong, Merchants Bank's shares rose 18 percent to HK$23.30 as of 11:03 a.m., a gain that may partly reflect a market surge since the stock was suspended last week. In Shanghai, the shares traded at 17.23 yuan, 25 percent higher than the planned placement price of 13.8 yuan.
Regulatory Approvals
Merchants Bank's incentive scheme, subject to regulatory and shareholder approvals, will last six years, with employees to be sold as much as another 4 billion yuan of shares in two additional tranches, the company said. Shares purchased will be subject to three-year lock-ups.
In January 2009, the Ministry of Finance suspended stock incentive and employee stock ownership plans at state-owned and state-controlled financial institutions. Merchants Bank, the nation's sixth-largest lender by market value, may aim to take advantage of ambiguities in the definition of "state-controlled financial enterprises" to press ahead with its plans, CICC analysts led by Beijing-based Junhua Mao wrote in a note Monday.
In September last year, people familiar with the matter said that the finance ministry was planning trials that would let almost all staff at big state banks use as much as 30 percent of their salaries to buy shares.
China Minsheng Banking said in November that it will raise up to 8 billion yuan by selling as many as 1.4 billion new shares to selected employees at 5.68 yuan each. While Minsheng's shares have gained more than 60 percent since then, the incentive plan hasn't yet been approved by regulators.
— With assistance by Jun Luo
Before it's here, it's on the Bloomberg Terminal.
LEARN MORE