Billionaires Halt Coal Output in India Pending New Permits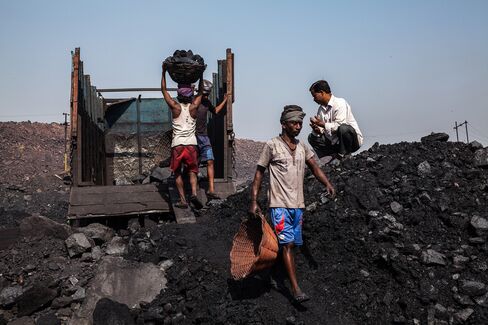 Coal mines recently auctioned by India's government have been forced to halt production pending fresh permits, raising prospects of higher fuel costs for the new owners including Hindalco Industries Ltd. and Sesa Sterlite Ltd.
The stoppage will last for about four months at the mine won by Monnet Ispat & Energy Ltd. in the central state of Chhattisgarh, company President Amitabh Mudgal said. Starting April 1, billionaire Kumar Mangalam Birla-owned Hindalco and Sesa Sterlite, the nation's biggest aluminum producers, stopped work at the mines they acquired, said two company officials familiar with the development. The officials asked not to be identified because they aren't authorized to speak to the media.
Matters related to ownership transfers are also thwarting work at the mines and the winning companies will have to spend more either importing coal or pay market rates at monopoly supplier Coal India Ltd.'s auction sales. The stoppage belies the Narendra Modi's government's commitment to ensure coal production isn't disrupted as power plants, roads, bridges and other infrastructure are added to boost economic growth.
"The auctions have led to a change of owners, which means a possible disruption in coal output for at least three to six months," Neelkanth Mishra, managing director for equity research at Credit Suisse Securities (India) Pvt., said in an e-mail.
Hindalco shares declined 1.3 percent to 136.10 rupees at the close of trading in Mumbai. Sesa Sterlite fell 0.9 percent to 200.55 rupees, while Monnet Ispat was unchanged at 55.35 rupees.
Illegal, Arbitrary
In September, the nation's top court canceled most of the 218 coal mines given away to companies for their own use since 1993, terming the allocations illegal and arbitrary. Modi, who took office in May last year, aims to boost growth to as much as 8.5 percent from 7.4 percent and attract foreign investments to Asia's third-biggest economy.
The disruptions in supplies can last for as long as two years should the companies fail to ensure shipments of the coal to their plants, Mishra said.
"Mines where there are new owners are closed as they sort out issues on transfer of assets with the previous owners," said Anthony Desa, chief secretary of the government of Madhya Pradesh, a central Indian state where some of the coal blocks are located. "There's no difficulty from our side in giving approvals provided they meet all the norms."
First Auction
Producers of power, metals and cement won rights to 16 coal blocks that were offered in the nation's first auction of coal blocks. With at least seven of these mines, having a combined annual production capacity of about 8 million metric tons, coming to a halt, the users will have to seek alternate supplies. India produces about 550 million tons of coal a year.
"It'll take us three to four months to start producing at the Gare Palma IV-7 mine," Mudgal said. "At the moment we are getting all the necessary clearances from the state government and finalizing our contractors."
Hindalco had won three operating mines, while Bharat Aluminium Co., a unit of billionaire Anil Agarwal's Sesa Sterlite, won one block. GMR Infrastructure Ltd. was the top bidder for the Talabira-I block in Odisha.
GMR expects to start operations at Talabira-I by next month once all necessary statutory permits and approvals are in place, the company said in an e-mail response.
Hindalco spokeswoman Pragnya Ram and Sesa Sterlite spokeswoman Roma Balwani declined to comment.
When it had canceled the coal licenses in September, India's Supreme Court had asked permit holders of 40 mines to continue operating until March 31. It had asked the government to auction these mines so a new owner could take immediate charge from April 1 to avoid hampering output.
Essar Power Ltd., run by billionaire brothers Shashikant and Ravikant Ruia, won a mine in eastern state of Jharkhand that was on the verge of beginning production. The company will now have to wait for at least three months before it can start work on the mine, Chief Executive Officer Sushil Maroo said.
The block would help fire the company's 1,200 megawatt power plant at Mahan in the central state of Madhya Pradesh.
Before it's here, it's on the Bloomberg Terminal.
LEARN MORE