'Furious 7' Laps 'Longest Ride' Romance in Box-Office Race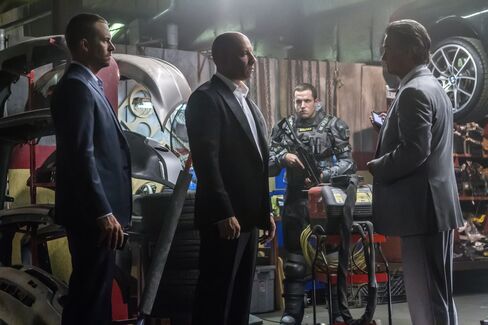 "Furious 7," the latest sequel in the car-chase film series from Universal Pictures, topped the domestic box office for a second week, outdrawing a new release from Twentieth Century Fox.
"Furious 7" collected $59.6 million in U.S. and Canadian theaters for Comcast Corp.'s film unit, following its record April debut last week, Rentrak Corp. said Monday in an e-mailed statement. The only new release, "The Longest Ride" from the 21st Century Fox Inc. studio, brought in $13 million to place third.
"Furious 7" has attracted a wide swath of moviegoers, making it the biggest film of the year. The film is packed with stunts and pays tribute to its founding star, Paul Walker, who died in a car accident in 2013 before the picture was completed.
"I think it was already a foregone conclusion, this would have been a hit no matter what," said Paul Dergarabedian, an analyst at Rentrak, said in a telephone interview Sunday. "The internationally flavored locations and a diverse cast gets audiences around the world excited to see these films."
"Furious 7" was predicted to collect $61 million this weekend, the estimate of BoxOffice.com. The action picture has also benefited from a lack of competition as fans look forward to "Avengers: Age of Ultron" in May, which is widely expected to be one of the top-grossing features of the year.
Brothers Recruited
Walker's two brothers were brought in as stand-ins, and special effects were employed to complete filming. Vin Diesel returns as Dominic Toretto, and with an expanded crew, to take on Deckard Shaw, played by newcomer Jason Statham, who wants revenge for the death of his brother in the prior installment.
"Furious 7" has produced $251.5 million domestically in two weeks of release, Rentrak said. Worldwide sales total $799.5 million, according to Box Office Mojo.
"The Longest Ride" is a romance story based on the novel by Nicholas Sparks, author of "The Notebook," which became a cult hit.
The love story features an ambitious young champion rodeo rider named Luke Collins, played by Scott Eastwood, looking to make a comeback. Eastwood, son of Clint, falls for Sophia, played by Britt Robertson, who is about to start a dream job in New York City. The film explores the challenges and rewards of enduring love.
Poorly Received
The critical reception was poor, with the film generating only 29 percent positive reviews, according to aggregator Rottentomatoes.com.
"The two-plus hours is mostly marked by an emptiness born of scene after scene designed to blatantly manipulate emotions rather than trigger them," Betsy Sharkey wrote in a review for the Los Angeles Times.
The film had been forecast to record $16 million this weekend and place third, according to BoxOffice.com.
Among returning movies, "Home," the animated feature from DreamWorks Animation SKG Inc. and Fox, placed second and collected $18.5 million in its third week in theaters.
The film has recorded $129.1 million in domestic sales.
"No question this movie filled a void by providing PG-rated family entertainment in a marketplace which has been dominated by movies aimed at the older crowd or the date crowd," Dergarabedian said.
Weekend sales for the top 10 films fell 5.8 percent to $123.4 million from a year earlier, Rentrak said. Sales for the year to date have increased 7.2 percent to $2.94 billion.
The following table has U.S. movie box-office figures provided by studios to Rentrak. The amounts are based on actual ticket sales for April 10 to April 12.
                  Rev.    Pct.           Avg./      Total
   Movie         (mln)    Chg. Theaters  Theater    (mln) Wks
================================================================
 1 Furious 7     $59.6    -60    4,022  $14,815   $251.5    2
 2 Home           18.5    -31    3,703    5,005    129.1    3
 3 Longest Ride   13.0     --    3,366    3,868     13.0    1
 4 Get Hard        8.2    -37    3,132    2,624     70.8    3
 5 Cinderella      7.1    -30    3,025    2,360    180.7    5
 6 Divergent       6.7    -34    3,118    2,152    114.7    4
 7 Woman In Gold   5.5    162    1,504    3,646      8.9    2
 8 It Follows      1.9    -23    1,633    1,190     11.7    5
9 Danny Collins    1.5    326      738    2,010      2.4    4
10 Kingsman        1.3    -28    1,013    1,292    124.5    9



Top 10 Films Grosses



   This Week     Year Ago      Pct.
     (mln)         (mln)       Chg.
===================================
    $123.4        $131.1      -5.8



Year-to-date Revenue



     2015          2014
      YTD           YTD        Pct.
     (mln)         (mln)       Chg.
===================================
    $2,941        $2,744      +7.2

Source: Rentrak Corp.
Before it's here, it's on the Bloomberg Terminal.
LEARN MORE