Sika Hosting Investors in Chippendales Venue Shows Bid Drama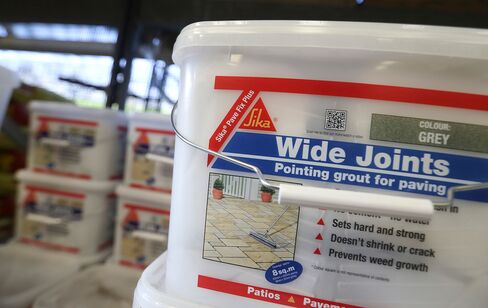 For 50 years, Swiss construction-chemicals maker Sika AG has hosted its annual shareholder meeting in a town hall in a quiet suburb of Zurich, where the few hundred investors would be treated to a sit-down meal.
With a takeover battle for the company raging, the venue this year had to be switched to the 2,000 capacity Waldmannhalle arena that's hosted major sports and music events, and the Chippendales male striptease troupe. Sika's founding family, which agreed to sell a 16 percent stake carrying 52 percent of the voting rights to France's Cie. de Saint-Gobain SA, will face off against management and investors such as the Bill & Melinda Gates Foundation Trust, which oppose the deal.
Sika management has said it's unacceptable that family shareholders get an 80 percent premium for their stake from Saint-Gobain's offer while other investors get nothing -- a divergence that's sure to be a major focus at the April 14 shareholder meeting. Also topping the agenda will be the Burkard family's attempts to oust Sika's chairman, Paul Haelg, along with other executives.
"This will be a very emotional event with plenty of minority shareholders speaking up and criticizing the family for the deal," said Christian Arnold, an analyst at Bank Vontobel.
Sika and some shareholders argue the 2.75 billion-franc ($2.8 billion) transaction also defies commercial sense and gives the French rival access to its product range, client lists and know-how.
Public Dispute
Sika plans to cap the voting rights of the Burkard's investment vehicle, Schenker-Winkler Holdings, to 5 percent at the meeting. That may help win a vote to remove an historic opt-out clause that allows Saint-Gobain to avoid making an offer for the whole company.
Last year's decision by the Burkard family -- relatives of Kaspar Winkler, who founded the company in 1910 -- to sell out without telling the management has thrown the company into disarray and unraveled decades of quiet cooperation that saw the family focus largely on charity. Sika's chief executive officer went into open rebellion when the deal was announced Dec. 8 and threatened to quit, while his counterpart at France's Saint-Gobain sought to defuse the situation, saying they had been approached.
The management is backed by investors such as the Bill & Melinda Gates Foundation, which in January said that Saint-Gobain's plan would inflict significant harm on the company and its stakeholders.
'Enduring Harm'
Investors are also calling for a vote at the meeting to establish a committee to investigate whether the Burkards and Saint-Gobain exchanged any non-public information.
"We believe the proposed transaction with Saint-Gobain would undermine what makes Sika a success and this AGM is critical to addressing that," said Iain Richards, head of responsible investment at Threadneedle Investments, one of Sika's disgruntled shareholders. "We are keen for the family to consider exploring and discussing alternative actions to what is currently being pursued."
Investors will also nominate a new chairman, with the Burkards planning to put forth Max Roesle, a Zurich-based finance lawyer who has represented the family before. Management aims to keep Paul Haelg in that position.
Lunch Boxes
Sika's shares, which stood at 3,617 francs at 11:22 a.m. on Monday in Zurich, have dropped 6.9 percent since the deal was announced, with management warning that merging with Saint-Gobain would result in a clash of corporate cultures and demotivate managers and employees. Saint-Gobain has said that Sika shareholders will also benefit from synergies and that there's little overlap in important business segments.
The expected record turnout at the shareholder meeting will mean simple lunch boxes rather than more elaborate dining arrangements Sika investors have grown used to. But whatever the outcome, one feature of the event remains written in stone: the local delicacy Zuger Kirschtorte, a Black Forest type cake, will still be offered to all investors.
Before it's here, it's on the Bloomberg Terminal.
LEARN MORE