Modi Woos German Companies on Mission to Modernize India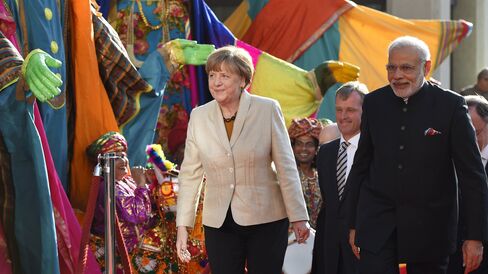 Chancellor Angela Merkel urged India's government to speed up removing legal and policy barriers to foreign investment, saying German companies want to be treated on an equal legal footing with Indian competitors.
Merkel said Monday she made Germany's position clear to Prime Minister Narendra Modi at a dinner during their visit to the industrial fair in Hanover, Germany. Modi said Indo-German economic ties aren't where both countries would like them to be.
"This means equal access to public contracts, issuance of licenses, equal conditions in the legal framework," Merkel said in a speech at a German-Indian business forum in Hanover. "We accept your open-arms offer and we extend our own hand so we can become good partners."
Modi's visit to Germany, which includes official talks with Merkel in Berlin on Tuesday, is part of his global effort to promote Asia's third-biggest economy as an attractive place for foreign investors. German exports to India have focused on machines, chemicals and automobiles, yielding trade surpluses in Germany's favor.
India may leapfrog Germany and Japan to become the world's third-largest economy behind the U.S. and China by 2030, according to a U.S. Department of Agriculture forecast.
India promises "huge" opportunities for German investors, Modi said. Germany ranks eighth in direct investment in India, reflected in 600 joint ventures, he said.
'We have committed ourselves for creating and improving the business environment,'' he said. "The purpose of my being here and participating in the Hanover Fair is to highlight that there is more potential in Indo-German economic collaboration."
German companies should know that "India is now a changed country" with a more "transparent, responsive and stable" regulatory framework, Modi said.
German-Indian trade contracted 7.4 percent to 16.1 billion euros ($17.1 billion) in 2013-2014. India was Germany's 25th most important destination for exports that year, while Germany was India's 9th most important destination for its exports, underlining the imbalance in trade flows.
Before it's here, it's on the Bloomberg Terminal.
LEARN MORE