Miliband Vows Labour Would Cut U.K. Budget Deficit Each Year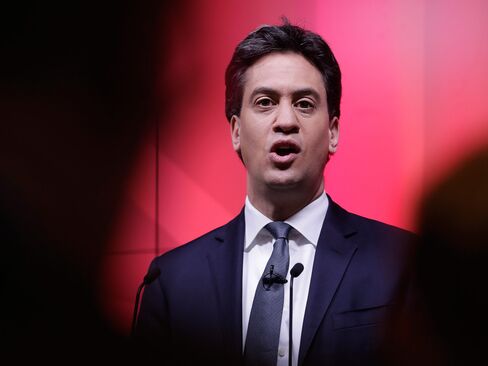 Ed Miliband tried to claim the mantle of fiscal responsibility for his Labour Party with a pledge to narrow the U.K. budget deficit every year if he gains power on May 7.
Announcing the party's election manifesto in Manchester, northwest England, on Monday, Miliband set out the fiscal rules a Labour government would follow, repeating a commitment to run a surplus by 2020. The manifesto also reiterates key Labour pledges such as reversing the cut in the top rate of income tax and barring energy companies from raising prices until 2017, and it contains a promise not to raise the basic tax rate, national insurance, or the sales tax.
Labour also sought to exploit a decision by Prime Minister David Cameron's Conservatives to make an unfunded pledge to increase spending on the National Health Service by 8 billion pounds ($11.7 billion) a year. Miliband said that by doing so, the Tories have abandoned spending controls as they fear they're on course to lose the election.
"In recent days you have seen the Conservatives throwing spending promises around with no idea of where the money is coming from, promises which are unfunded, unfair and unbelievable," Miliband told supporters. "That approach is bad for the nation's books. And nothing is more dangerous to our NHS than saying you will protect it without being able to say where the money is coming from. You can't help the NHS with an IOU."
Reassuring Voters
Labour's deficit commitment excludes capital spending, whereas the Tories propose running an absolute surplus. The gap between those two positions could be as much as 30 billion pounds a year of borrowing by Labour, according to the Institute for Fiscal Studies.
The deficit pledge was designed to reassure voters concerned about Labour's economic record. Borrowing shot up under the last Labour government, when tax receipts collapsed during the financial crisis and the Treasury was forced to bail out banks. The Tories and Liberal Democrats have made much of a joke letter left by Labour's last chief secretary to the Treasury, Liam Byrne, telling his successor in 2010 there was "no money left."
"Absolutely there's a challenge for us to show that we're going to be fiscally credible," Miliband said in reply to questions.
Majority Absent
With less than four weeks to the election, the Tories and Labour are still neck-and-neck in the opinion polls. Neither Cameron nor Miliband appears likely to gain a majority in the House of Commons, even with the aid of the traditional third party, the Liberal Democrats, who have been the junior partners in Cameron's coalition government since 2010.
Labour has set out a series of targets for taxation. Last week it pledged to stop people with foreign connections from claiming "non-domiciled" status that allows them to avoid tax on overseas earnings.
On Sunday, the party proposed tightening a series of rules used in the finance industry to avoid tax. Among those targeted are "carried interest" rules that allow private-equity managers to pay capital-gains tax instead of income tax and what the party said were loopholes used by hedge funds to avoid stamp duty.
The Conservatives have focused on announcing areas where they would cut taxes and increase spending. Cameron pledged Sunday to raise the inheritance-tax threshold for couples to 1 million pounds.
'Balanced Plan'
Tory Chancellor of the Exchequer George Osborne repeatedly refused to say Sunday where the promised money for the NHS would come from. Interviewed on the BBC, he said the Conservatives had a "balanced plan" for the economy which allowed them to spend the extra money. Under the state-funded health-care system, most treatment is free at the point of delivery.
The Labour manifesto opens with a promise that the deficit will be narrowed every year if the party returns to power after five years in opposition. It repeats a series of promises already made, offering 25 hours a week of free child care for three- and four-year-olds, and cutting local business taxes for small companies.
In each case, the party sets out how it plans to raise the money to fund the pledge. Targets for taxation include properties valued at more than 2 million pounds, tobacco companies, hedge funds and banks.
"Our intention is to get the current budget back into surplus and the national debt falling by the end of the parliament and before that if we can," Labour's finance spokesman, Ed Balls, told BBC Radio 4's "Today" program on Monday. He said that would include U.K.-wide cuts "in our non-protected areas, outside health and education."
The Conservatives are scheduled to publish their manifesto Tuesday, with the Liberal Democrats following Wednesday.
Before it's here, it's on the Bloomberg Terminal.
LEARN MORE