Anti-Euro Finnish Party Gets Ready to Rule as Discontent Brews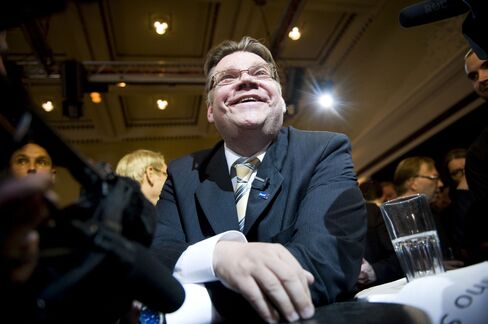 The anti-euro The Finns party, which eight years ago got just 4 percent of the vote, is now dressing itself up for Cabinet seats as Finnish voters are set to oust the government after four years of economic failure.
The Finns, whose support is based on equal parts of anti-euro, anti-immigrant and anti-establishment sentiment, have captured voters on the back of the euro-area's economic crisis and a home-grown collapse of key industries. In the 2011 election, during the height of the euro crisis, it shocked the traditional parties by winning 19 percent of the vote.
"We can't be ignored, because a strong majority government won't be possible without us," Timo Soini, the party leader, said in a phone interview April 9.
Europeans are seeing their political landscape shifting with the emergence of non-establishment parties from Greece in the south to Finland in the north. In the Hellenic nation, anti-austerity Syriza grabbed power in January elections and in Spain, where an election is due this year, its ally Podemos has topped polls.
Almost a third of voters expect The Finns party to be part of government, according to a March 13 survey by the Foundation for Municipal Development.
Recession Years
The country is struggling to emerge from a three-year recession after key industries such as its papermakers have buckled amid slumping demand and Nokia Oyj lost in the smartphone war, cutting thousands of jobs. The government has raised taxes and lowered spending, adding to unpopularity, and on top of that have been bailout costs for Greece and Portugal, among others, which have eroded finances for Finland, still top-rated at Fitch Ratings and Moody's Investors Service.
"Our stance will be very tight, no matter what," Soini said. "Nothing is forcing Finland to participate in these bailout policies. If we don't want to take part, we can refuse."
Soini's recipe for fixing the economy includes encouraging exports, backing entrepreneurship, investing in road infrastructure and cutting red tape. The party seeks to balance public finances through budget cuts of as much as 3 billion euros ($3.2 billion) and higher taxes for the wealthy.
Three Parties
The euro-skeptic group will probably join a three-party coalition. Polls predict more than 50 seats out of 200 for the opposition Center Party. That group could eventually form a majority with only two of three other parties who are all set to win about 30 seats each: The Finns party, Prime Minister Alexander Stubb's National Coalition or Finance Minister Antti Rinne's Social Democrats.
Riitta Linnanvuo, 69, said she has already cast an advance ballot for The Finns.
"I wanted to give some encouragement to Soini's troops," the pensioner said at a city-center rally for the party. The incoming "government will have its work cut out for it."
The Center Party backed bailouts and loans for Greece, Portugal and Ireland while in government in 2010 and 2011 and was then ousted. It has since opposed further help, alongside The Finns party.
"The Center Party and us will have a majority within the government, if it keeps the stance it has had," Soini said. His group isn't currently pushing for Finland to exit the euro.
Still, "Finland should under no circumstances declare it will always and forever stay," he said.
The party first negotiated joining government after the 2011 elections, after catapulting to third place with 39 lawmakers. Its opposition to euro-area bailouts in the height of the crisis meant the door to government was closed. In 2007, its five seats didn't qualify for an invitation to join talks to form a ruling coalition.
"We've grown, we've moved forward, we've stabilized," Soini said. "It's a key goal for us to consolidate our backing and be one of the big parties, so that we're not just a one-vote wonder."
Before it's here, it's on the Bloomberg Terminal.
LEARN MORE