U.K. Lib Dems to Pledge Higher Dividend Tax for Rich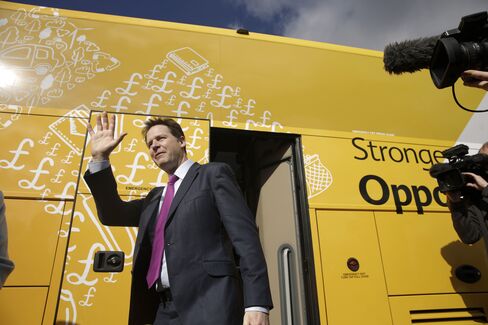 U.K. Liberal Democrat leader Nick Clegg will pledge to raise dividend tax and cut subsidies for the wealthy as he seeks to differentiate himself from his former Conservative coalition partners before the election next month.
Clegg, who hopes to form part of another coalition after the May 7 election as most polls put his party in fourth place, will say his priorities are income-tax cuts and investing in the publicly funded National Health Service.
He proposes aligning dividend-tax rates with marginal income-tax rates for higher and top-rate taxpayers. He would also scrap winter fuel subsidies for the wealthy and restrict exemptions from capital gains tax.
"It's a plan to protect our economy and invest in our schools, hospitals and public services," Clegg will say Sunday, according to the text of prepared comments. "A plan with a heart as well as a brain."
Clegg is seeking to present the Liberal Democrats as a mid-point between the deficit-cutting austerity of Prime Minister David Cameron's Conservative Party and the anti-business rhetoric of the opposition Labour Party. The two largest parties are almost tied in most polls, signaling the next administration will be another coalition unless one party braves minority government.
Before it's here, it's on the Bloomberg Terminal.
LEARN MORE