Pakistan Raises Record $1.02 Billion in Habib Bank Share Sale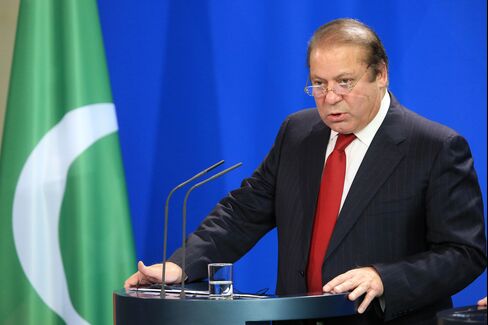 Pakistan has raised a record $1.02 billion in the nation's biggest asset sale by selling its entire stake in Habib Bank Ltd., the nation's largest lender by assets.
The government sold 609 million shares or its 42 percent stake for 168 rupees a share, a 9 percent discount to yesterday's closing price, Privatization Commission Chairman Mohammad Zubair said at a news conference in Islamabad today.
The transaction was part of Prime Minister Nawaz Sharif's asset sale program under which four transactions have been completed in the past year as the government raises funds from equity and bond sales to decrease the nation's fiscal deficit. The government is targeting to narrow the budget shortfall to 4.9 percent of gross domestic product this year from 5.5 percent in the 12 months through June.
"Global investors are appreciating Pakistan's economic progress," Zubair said. "Pakistan has come into the world market and there is a very bright future which is why investors are coming here."
Pakistan received demand for 965 million shares or $1.6 billion, the highest offer in any Asian frontier market transaction, Zubair said. International offers amounted to $1.2 billion and offers from domestic investors were worth 45 billion rupees ($442 million), both records, he said.
Habib Bank's shares rose 1.5 percent to close at 184.35 rupees yesterday after reports of oversubscription on the final day of book building. Shares have declined 15 percent this year compared with a fall of 2 percent in the benchmark KSE100 Index.
Pakistan's focus is now to sell stakes in Pakistan International Airlines Corp. and nine electricity distribution companies by 2016 to help end the energy crisis.
The asset sale program experienced a setback when political turmoil and falling oil prices prompted the government to suspend its sale of shares in Oil & Gas Development Co. Ltd. in November. The government has sold stakes in Pakistan Petroleum Ltd., United Bank Ltd. and Allied Bank Ltd. since June.
Before it's here, it's on the Bloomberg Terminal.
LEARN MORE