Iranians Said to Be Captured in Yemen as Fighting Escalates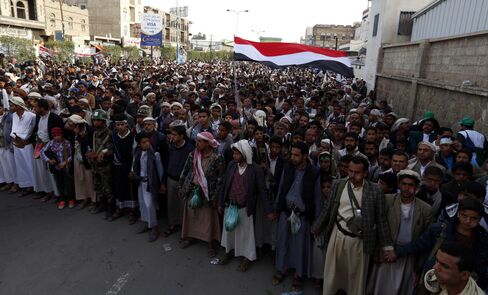 Two Iranian officers said to be commanding Shiite Houthi rebels were captured in Yemen, the Saudi-owned Al Arabiya TV reported, as dozens of people were killed Saturday in ground clashes and air strikes.
Yemeni militia loyal to ousted president Abdurabuh Mansur Hadi provided the names of the captured Iranian soldiers, according to the Arabiya report.
U.S. Secretary of State John Kerry said Wednesday that Iran is supplying the Houthis. Iran's Supreme Leader Ayatollah Ali Khamenei denied on Thursday that his country was interfering in Yemen.
At least 34 people were killed in Yemen Saturday, mostly Houthi rebels and fighters allied to former president Ali Abdullah Saleh, and tribesmen loyal to Hadi. Ten civilians died in air strikes that targeted Houthi bases, according to state news agency Saba, which is under Houthi control.
The conflict has escalated this month as a coalition of 10 Sunni-led nations assembled by Saudi Arabia seeks to check what it sees as an effort by Iran to expand its influence in the Middle East.
Saudi and Gulf Arab officials have said the aim of the military campaign is to restore the rule of Hadi and force the Houthis to resume talks. They have refused to rule out the deployment of ground troops.
Yemen is strategically significant. Roughly 4 percent of global oil shipments pass its shores each day via the Bab-el-Mandeb strait, according to the Congressional Research Service.
Foreigners continue to flee the country. More than 700 Jordanians were evacuated from Yemen this week, according to a statement by the kingdom's foreign ministry. Russia plans to pull its citizens from the capital Sana'a by Monday. Comoros, a small African island nation, will send its nationals to Saudi Arabia to escape the fighting.
Before it's here, it's on the Bloomberg Terminal.
LEARN MORE