Brazil's Rousseff Plans June U.S. Trip After 2013 Cancellation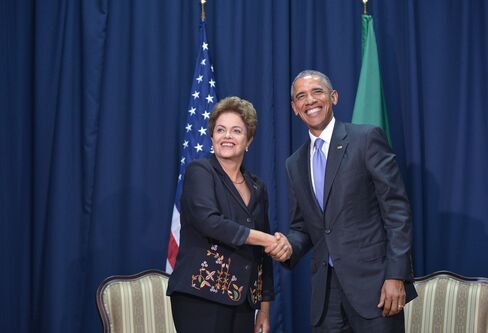 Brazilian President Dilma Rousseff said she will visit the U.S. in June in a bid to strengthen cooperation on energy, defense and climate change after a diplomatic spat over spying prompted her to cancel a 2013 trip to Washington.
Rousseff, 67, who met with President Barack Obama on the sidelines of the Summit of the Americas in Panama on Saturday, said a more formal state visit would only have been possible next year, coinciding with the start of the U.S. election season.
Renewed emphasis on the U.S. market coincides with an economic slowdown in Brazil and comes after a decade of efforts to foster trade ties with other developing countries, dubbed South-South trade. Latin America's biggest economy will contract 0.75 percent this year, according to the median estimate in survey of 36 economists by Bloomberg.
Industry and Trade Minister Armando Monteiro traveled to Washington in February in an effort to eliminate trade barriers and boost business opportunities, saying the U.S. is a priority for Brazil.
Asked whether her plans to visit the U.S. signaled that a page was turned on the spying controversy, Rousseff said that Obama told her he would call anytime he wanted to know anything about Brazil.
Before it's here, it's on the Bloomberg Terminal.
LEARN MORE