Spieth Gives Augusta Fans a Chance to See History: Masters Notes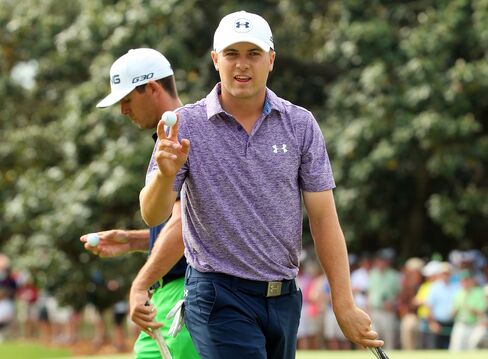 Frank DeBorde of Atlanta followed Tiger Woods for one hole during the second round of the Masters Tournament. His attention the rest of the time was on Jordan Spieth, realizing he was witnessing golf history in the making.
After Spieth rolled in an 8-foot birdie putt on the par-5 13th hole on Friday, DeBorde turned to his son, Frankie, and said, "This is a historic round, we have to watch," as they walked ahead to get a viewing spot along the 14th fairway.
"This is special," DeBorde, a lawyer attending the Masters for the ninth time, said in an interview. "We were here to see Tiger win one time years ago when if felt like he was ahead by 20. This has the same feel."
Spieth's performance over the first two days at Augusta National Golf Club in Georgia was indeed reminiscent of four-time Masters winner Tiger Woods in his prime. With 15 birdies and a score of 14-under-par 130 heading into the weekend, Spieth broke the tournament's 36-hole scoring record set by Ray Floyd in 1976. He carried a five-shot lead into the weekend, tied for the largest in Masters history.
After Spieth finished Augusta National's "Amen Corner" with his sixth birdie of the day, another father turned to his son and urged him to move quickly to the 14th hole, saying, "Let's go watch him birdie 14 and 15."
Spieth was followed throughout the day by a throng of fans, many of whom marveled at the play of a youngster who two years ago at this time was ranked 220th in the world. He's now fourth and could climb to No. 2 with a victory.
"It's great to see the 20-somethings making noise in the game of golf," said 26-year-old Atlanta resident Dan Gower as he followed Spieth's group. "We're watching history."
***
Ben Crenshaw, who won Masters titles in 1984 and 1995, played in the tournament for his 44th and final time Friday. The 63-year-old Crenshaw shot rounds of 91 and 85, a 32-over-par total that left him last in the 97-man field.
"My God, it was way past time for me," Crenshaw said. "But this place, as you all know, has just meant the world to me, all of us. It's a place I'm most comfortable."
Crenshaw received a standing ovation from spectators at the 18th green as he finished the second round, then received hugs from his wife, Julie, and three daughters.
"Julie and I are going to try to find the best seat in the house next year to watch," he said. "I don't know what we'll do, but it's going to be fun. I've spent a great part of my life studying this place. I feel very, very proud to play a small part in this place."
Spieth played practice rounds at Augusta National with Crenshaw, seeking advice from his fellow University of Texas alumnus as well as Crenshaw's long-time caddie, Carl Jackson.
"He gave me a little advice on putts, on where he thinks putts go versus where everyone else thinks putts go," Spieth said. "I'd rather not share that," he added, eliciting a laugh from reporters. "But it's been helpful, for sure."
***
Mark O'Meara, the 1998 Masters winner, made the cut for weekend play for the first time in 10 years with a 4-under-par 68 during the second round.
The 58-year-old O'Meara last shot under 70 at the Masters in 2001 and said afterward he hoped his performance would provide some incentive for Woods, a close friend with whom he played two practice rounds earlier in the week.
"He probably saw my name go up on the board and he's like, 'I can't let the old man beat me, I better play good,'" joked O'Meara, who is 3 under overall. "Hopefully I'll play well on the weekend."
Woods finished one shot behind O'Meara with a second-round 69, his best round at the Masters since 2011.
***
Henrik Stenson, the No. 2-ranked golfer in the world, was paired with Spieth for the second straight day and came away especially impressed with the youngster's maturity.
"He's definitely an old head on young shoulders, isn't he?" the 39-year-old Stenson said after his second straight round of 73. "He's playing strategically. He's playing very mature. And not making too many mistakes."
Augusta National typically requires extensive experience and while Spieth is thriving, Stenson is still learning. He's 2-over through 36 holes this week and has failed to finish below par in nine previous appearances.
***
While golf shirts and hats with the Masters logo are the most popular purchases at the Augusta National merchandise shops during tournament week, there's also an array of high-priced items for spectators to bring home with them.
Framed photos of the par-3 12th or 16th holes are available for $525. An alligator wallet with the Masters logo runs $495, while crystal martini glasses -- green, of course -- are $175 for a pair. Dooney & Bourke bags range from $200 to $300.
A leather pillow with a picture of the Augusta National clubhouse costs $195, while a pair of sterling silver Masters cuff-links made by Tiffany & Co. is $350.
And for those who want to try to get player autographs in style? There's a Montblanc Fountain Meister Pen with a small Masters logo on the side that will run you $950.
***
-Since 2000, the only second-round leaders at the Masters to win the tournament are Mike Weir (2003), Trevor Immelman (2008) and Bubba Watson (2014).
-Spieth has failed to convert his three previous second-round leads on the PGA Tour into wins: at the 2013 Quicken Loans National, 2014 Farmers Insurance Open and 2014 Pebble Beach Pro-Am.
-Spieth is seeking to join Woods and Sergio Garcia as the only players since 1940 to win three times before their 22nd birthday. Woods logged six wins and Garcia had three.
-Spieth, at 21 years and 8 months, could become the second-youngest Masters winner behind Woods. Seve Ballesteros is currently the second-youngest, having won at 23 in 1980.
-Crenshaw is the most recent of the record 12 players from Texas to win the Masters. Spieth was born and lives in Dallas.
-Spieth was the runner-up in his Masters debut in 2014. The last player to win the tournament in his second appearance was Charl Schwartzel in 2011.
-Dustin Johnson is one of three players to record four eagles in one Masters, joining Woods (2010) and Bruce Crampton (1974).
-Since 2009, the only player to record more eagles at the Masters than Johnson's 14 is Phil Mickelson (15).
Before it's here, it's on the Bloomberg Terminal.
LEARN MORE