VW Chairman Piech Casts Doubt Over Future of CEO Winterkorn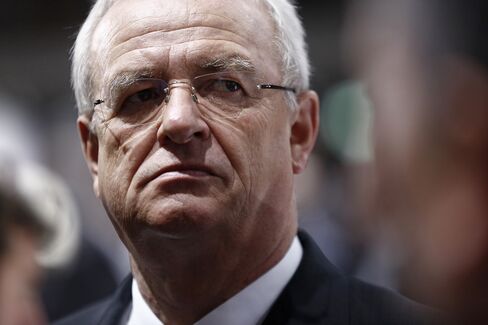 Volkswagen AG Chief Executive Officer Martin Winterkorn's future at the world's second-largest automaker was thrown into question after the chairman signaled he'd lost confidence in his leadership.
The 67-year-old CEO is encountering growing opposition from supervisory board members due to unresolved issues including an ill-fated U.S. sales strategy and a lack of progress developing a low-cost car, Der Spiegel reported.
"I'm keeping myself at a distance from Winterkorn," supervisory board Chairman Ferdinand Piech, 77, told the German magazine in an interview.
The chairman's comments mark a shift in ties following the two executives' decades of work together. Winterkorn's appointment as CEO in 2007 accelerated their transformation of Wolfsburg, Germany-based VW from a struggling industrial behemoth squeezed by high labor costs into a global automotive powerhouse with 12 carefully orchestrated brands ranging from Bugatti supercars to Scania heavy trucks.
Bernd Osterloh, VW's top labor representative and a member of the supervisory board, said in a statement that employees would back keeping Winterkorn as CEO beyond his term's expiration in 2016, and called for a halt to leadership "debates that only fill newspaper pages." Labor representatives hold half the seats on the company's board.
Stock Performance
Volkswagen rose 1.4 percent to 253.20 euros in Frankfurt. The stock has jumped 37 percent this year, valuing the company at 117.9 billion euros ($125 billion).
"The sharp tone of Piech's comments toward Winterkorn is a surprise, given that the duo has led VW successfully for years," said Stefan Bratzel, director of the Center of Automotive Management at the University of Applied Sciences in Bergisch Gladbach, Germany. "The identified problems aren't new, but compared to almost all of its competitors, VW as a company is in a very good shape."
An official at Piech's office in Salzburg, Austria, declined to comment on the Spiegel report, while Stephan Gruehsem, Volkswagen's chief spokesman, said in a statement by phone that Winterkorn "has turned VW into one of the world's most successful automakers worldwide in the last eight years."
Predecessor's Fate
Winterkorn was promoted from running the premium Audi division to his current position in the ouster of then-CEO Bernd Pischetsrieder. That followed a March 2006 Wall Street Journal interview in which Piech questioned whether Pischetsrieder had labor representatives' backing for a renewed term amid a cost-cut drive.
While the main mass-market VW brand has gained buyers in most of the world, the division has failed to win a wider share of auto sales in the U.S. Profitability at the division has also been squeezed by heavy spending on new technology, while progress on getting the MAN and Scania commercial-vehicle units to cooperate has been hampered by internal rivalries.
Acquisitions since Winterkorn became group CEO include sports-car manufacturer Porsche and Italian motorcycle producer Ducati as well as MAN and Scania. The Volkswagen group has more than doubled the number of factories worldwide to 118.
Volkswagen, Europe's largest automaker, may snatch the global sales crown from Toyota Motor Corp. as early as this year after reporting record earnings and sales volume last year. VW's strong presence in China and the expansion of the Audi and Porsche nameplates in the lucrative luxury-car segment have been key earnings drivers for the group.
'Materially Destabilized'
"In most companies, a CEO would be materially destabilized by such harsh commentary from his chairman," and Winterkorn may look at retiring early, Arndt Ellinghorst, a London-based analyst at ISI Group.
Piech, a member of the Porsche and Piech families that control Volkswagen, told Spiegel that both the CEO and chairman's positions should be filled internally, by engineers. Piech himself was CEO of the carmaker for a little less than a decade until 2002, when he took the supervisory board seat as Pischetsrieder succeeded him in the top management spot.
The probability "has just increased" that Matthias Mueller, who runs Porsche, will become VW's group CEO, Ellinghorst said.
Spiegel cited Piech as saying he would oppose appointing a family member, including his wife, who also sits on the supervisory board, as chairman. His term ends in 2017.
Before it's here, it's on the Bloomberg Terminal.
LEARN MORE