Take Off Friday and Monday Because Most Bond Traders Already Do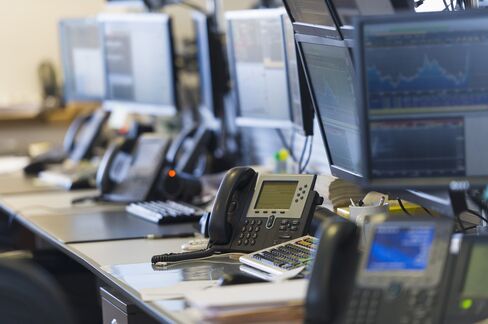 Guess what? Not much happened this week in U.S. credit markets. Really.
The boredom is so bad that it looks like some traders aren't even showing up for work on Monday morning.
"A slow start to the week has become customary, as Monday appears to have become the new Friday," Barclays Plc analysts Jeffrey Meli and Bradley Rogoff wrote in a report Friday. It was especially pronounced this week, as "investors were slow to return to trading from the Easter holiday."
Investment-grade trading volumes were 21 percent lower during the first three days of this week compared with the year-to-date average for the period, and high-yield trading was down by 15 percent, according to the Barclays report.
Who can blame bond traders for wanting a break? Everyone gets tired from time to time.
But the statistics suggest bond traders have gotten used to taking a long weekend that goes from Friday through Monday night. Average investment-grade trading has been the same this year on the first and last days of the week, with Friday actually being more active in the high-yield market, Barclays data show.
Rate Hike
Barclays says its analysts aren't suggesting that traders aren't coming to work or should work fewer days, but highlighting a problem that's creating a lot of angst in credit markets.
Trading has generally been falling, and in some ways it reveals how the prolonged zero-rate environment is creating malaise from company boardrooms to trading floors. There aren't real bargains to be had, there doesn't appear to be a real imminent threat of runaway inflation, and -- aside from oil companies -- it doesn't really look like corporate America is about to fall apart.
In other words, there isn't a massive catalyst to prod investors into action. That's why analysts from UBS Group AG to BlackRock Inc. have been encouraging the Federal Reserve to raise rates a little, if for no other reason to jolt investors out of their complacency.
"Our thoughts on the impact of zero rates imply that the first few rate hikes may cause an acceleration in economic activity rather than acting as a restraint," UBS analysts led by Drew Matus wrote in a report Friday. "Although low rates can stimulate the economy, we believe it is possible to have too much of a good thing."
Wall Street will keep debating when exactly the Fed will hike rates a few basis points. Or whether that'll cause a melt down in asset prices, or a melt up.
In the meantime, it's getting pretty quiet out there.
Before it's here, it's on the Bloomberg Terminal.
LEARN MORE