Sarah Brady, Richard Dysart, Paul Reynolds: Obituaries This Week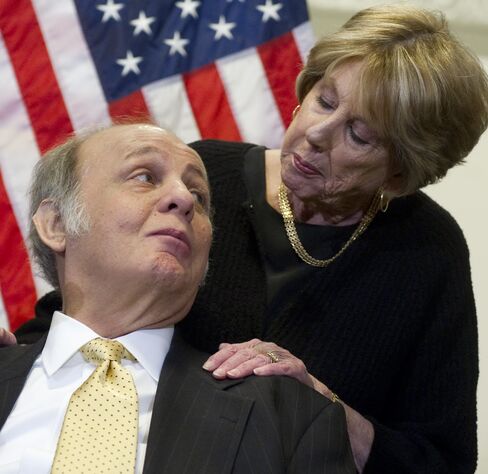 This week's notable deaths included the woman who spent more than three decades working to reduce gun violence in the U.S., the actor who played the founding partner of the firm McKenzie, Brackman, Chaney & Kuzak on the TV series "L.A. Law," and the head of a Canadian investment bank who died after competing in a triathlon. Below are summaries of these and other obituaries.
Sarah Brady, 73. Advocate for gun control legislation since 1981, when her husband, White House press secretary James Brady, was shot in the head and left partially paralyzed during an assassination attempt on President Ronald Reagan. The couple created the Washington-based Brady Campaign to Prevent Gun Violence to lobby members of Congress. The 1993 law requiring federal background checks of gun buyers is known as the Brady Bill. Died April 3 in Alexandria, Virginia, from pneumonia.
Richard Dysart, 86. A distinguished-looking, bespectacled character actor who often played doctors and lawyers, including Leland McKenzie on NBC's "L.A. Law" drama from 1986 to 1994. He was cast as a physician in "The Hospital" (1971) with George C. Scott, "Being There" (1979) with Peter Sellers, and "First, You Cry" (1978), a television movie with Mary Tyler Moore. He played an evil mining baron in Clint Eastwood's "Pale Rider" (1985). Died April 5 in Santa Monica, California. The cause was cancer.
Paul Reynolds, 52. Chief executive officer since 2007 at Canaccord Genuity Group Inc., Canada's biggest independent investment bank. He joined the Toronto-based company in 1985 as an investment adviser and for eight years was president of European operations, expanding Canaccord's global reach. The investment bank's assets more than doubled during his tenure as CEO. Died April 1 in Kona, Hawaii, of "complications" halfway into the swim portion of the Lavaman Waikoloa Triathlon several days earlier.
Glenn Costello, 53. Senior managing director at New York-based Kroll Bond Rating Agency Inc., where he had worked since 2011, rising to head of credit policy. A specialist in mortgage bonds, his career included jobs at Fitch Ratings and Merrill Lynch & Co., where he led research on residential mortgage-backed securities. Died on April 4. The cause was cancer.
Richie Benaud, 84. Former captain of Australia's national cricket team, who became the sport's best-known television commentator. He became Australia captain in 1958, masterminded two Ashes triumphs and never lost a Test series. Died April 10. He had been diagnosed with skin cancer.
David Laventhol, 81. Former Times Mirror Co. president who as publisher of the company's Newsday and Los Angeles Times led the newspapers to win seven Pulitzer Prizes. While he was chief executive officer of Newsday starting in 1978, the Long Island, New York-based suburban tabloid opened its first foreign bureaus and tried unsuccessfully to expand into New York City. He was named Times Mirror president in 1987 and Los Angeles Times publisher in 1990, retiring in 1993. Died April 8 in Manhattan. The cause was complications of Parkinson's disease.
Before it's here, it's on the Bloomberg Terminal.
LEARN MORE