S. Korea Outlook Raised by Moody's on Better Debt Management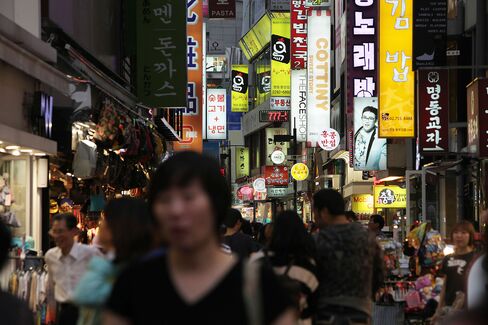 South Korea's credit outlook was raised to positive from stable by Moody's Investors Service Inc., which cited improved public debt management. The rating was affirmed at Aa3, the fourth-highest level.
Improved debt management at public corporations, lower vulnerability to global financial market shocks and a track record of fiscal prudence were the main drivers of the change, the ratings agency said in a statement. The nation's ability to cope with volatility in capital flows is bolstered by its current account surpluses, Moody's said.
The upward revision in the outlook comes almost three years after the agency raised the sovereign rating of Asia's fourth-largest economy to Aa3 in 2012, the same as China and Taiwan. The current administration has worked to reduce debt at state-run companies since taking office early 2013.
The won pared losses after the revision. The currency was little changed at 1,092.93 per dollar at 2:01 p.m. in Seoul after falling as much as 0.4 percent earlier.
Moody's and Fitch Ratings rank South Korea at their fourth highest rating, while Standard & Poor's has it at A+, its fifth highest level.
"Korea's strong fiscal position enables a relatively large degree of policy space to cope with contingent domestic risks and external shocks," Moody's said in the statement.
A current-account surplus bolsters the nation's ability to withstand possible volatility in capital flows once the U.S. Federal Reserve starts to raise interest rates, it said.
Moody's forecast the economy will grow by 3 percent to 3.5 percent over the next two years. The Bank of Korea projects 3.1 percent growth for this year and 3.4 percent for 2016, according to updated forecasts released on Thursday.
Before it's here, it's on the Bloomberg Terminal.
LEARN MORE