Norway Starts Process to Open Wealth Fund to Infrastructure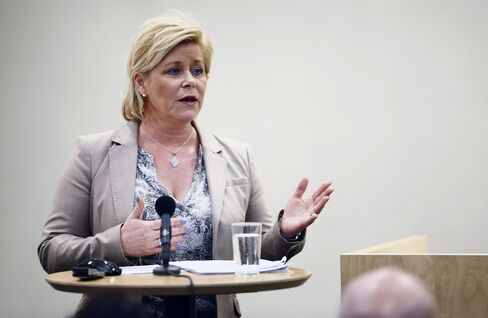 Norway's government kicked off a process that could open its $880 billion wealth fund to invest in infrastructure and to increase its share of real estate to spread risk and boost returns.
The government appointed an expert group that will report back no later than November 2015, according to a statement from the Finance Ministry.
"It's important to consider the effect on expected returns and risk of opening up for unlisted infrastructure and increasing investments in real estate," Finance Minister Siv Jensen said in an interview after a press conference.
The government has so far hesitated to let the fund expand into unlisted investments such as infrastructure. The fund is mandated by the government to hold about 60 percent in stocks, 35 percent in debt and 5 percent in properties. The investor, which gets its capital from Norway's oil and gas wealth, has been lobbying to be allowed to move into new assets such as private equity to boost returns.
The government increased the so-called tracking error, or the amount it can deviate from its benchmark, to 1.25 percent from 1 percent after the fund in January requested a change to 2 percent. It raised the environment-related investment mandate to as much has 60 billion kroner ($7.4 billion) from 50 billion kroner and introduced a new rule to exclude companies "whose conduct to an unacceptable degree entails greenhouse gas emissions."
Expanding Oversight
It also proposed to expand the central bank's board by one more deputy governor to improve oversight and broaden the institution's competence on investment management. The fund is a part of the central bank, which now has one permanent deputy governor and one governor.
"The Norwegian central bank has two extremely heavy assignments: one is more traditional central bank duties, the other is the management" of the fund, Jensen said during a press conference in Oslo. "The best answer in the short term is to expand the board with one deputy governor."
Debate has been swirling over whether tighter oversight is needed for the fund, which owns 1.3 percent of global stocks, as it looks at broadening its asset base. Control of the wealth fund is split across various units in the government and the central bank.
Norway's biggest opposition party, Labor, will support the proposal to add a deputy governor, said Torstein Tvedt Solberg, a lawmaker on parliament's Finance Committee.
"The steps they are taking are very good," he said.
The government also decided to follow the advice of a report it mandated last year not to exclude investments in companies producing coal or other fossil fuels.
Labor criticized that decision, vowing to seek a parliamentary majority to override the government on coal investments, Tvedt Solberg said.
The expert group on infrastructure is comprised of Stijn Van Nieuwerburgh, a professor of finance at New York University's Leonard N. Stern School of Business, Richard Stanton, a professor of finance and real estate at the Haas School of Business, University of California, Berkeley and Leo de Bever, a former Bank of Canada official and pension fund executive.
Before it's here, it's on the Bloomberg Terminal.
LEARN MORE