Nigeria to Restrict Foreign Withdrawals From Naira Accounts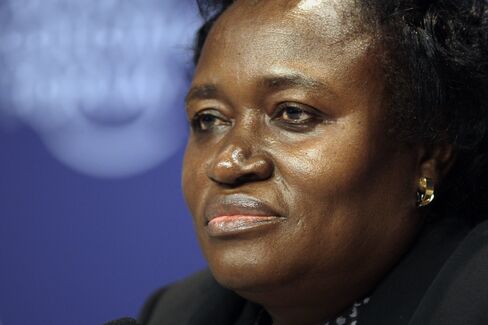 Nigeria's central bank plans to lower limits on how much money people can withdraw from their local currency accounts when they go abroad as it battles market speculation against the naira.
"It's all this speculation," Sarah Alade, a deputy governor at the central bank based in the capital, Abuja, said by phone on Friday. The measure may be implemented "very soon," she said.
Naira account holders can currently withdraw as much as $150,000 abroad each year, Ibrahim Mu'azu, a spokesman for the central bank, said in a separate phone interview from Abuja.
The new limit will not apply to foreign-exchange accounts, Alade said. Last month, Central Bank of Nigeria Governor Godwin Emefiele said the regulator won't introduce capital controls.
Nigeria, which derives 90 percent of export earnings and two-thirds of government revenue from oil, has been hammered by a 47 percent plunge in Brent crude prices since June. The naira has weakened 18 percent against the dollar in that period, more than any of the 24 African currencies tracked by Bloomberg. The Nigerian Stock Exchange All Share Index has also fallen 18 percent.
'Uncovered Demand'
The central bank has been trying to bolster the currency since last year by limiting foreign-exchange trading and selling down its foreign reserves. They stood at $29.6 billion on April 9, according to central bank data. That's the lowest in at least a decade, according to HSBC Holdings Plc.
The naira will probably come under more pressure after the results of local and governorship elections on April 11 are announced, according to Kunle Ezun, an analyst at Ecobank Transnational Inc. in Lagos.
"There's so much uncovered demand" among businesses for dollars, Ezun said by phone. "Once the elections are over, a lot of demand will come in to the market. That will put the naira under pressure."
Before it's here, it's on the Bloomberg Terminal.
LEARN MORE