Nigeria State Elections Held Amid Lower Turnout, Violence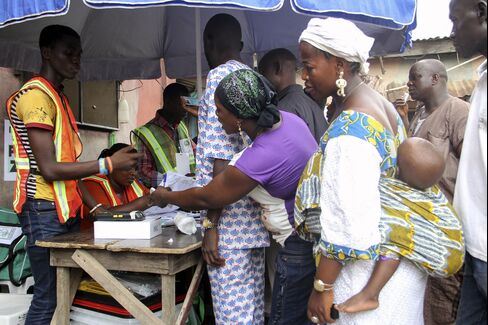 Counting of ballots began in Nigeria after state governorship and legislative elections on Saturday marked by a low turnout and violence that left at least seven people dead.
Fewer people turned up at polling units in 29 of the country's 36 states holding elections than in the presidential poll that ousted President Goodluck Jonathan last month.
The opposition All Progressives Congress wants to consolidate on the victory of Muhammadu Buhari by taking more states from the outgoing Peoples Democratic Party government. The PDP needs a strong showing to be an effective opposition and improve its chances of returning to power, a spokesman said.
Voting started at some polling units at 1:30 p.m. as scheduled after opening at 8 a.m. local time to accredit voters. Counting started in many voting centers across the country from about 4 p.m.
The conduct of the elections is an improvement on the presidential vote with polling stations opening on time in many places, Santiago Fisas, the chief observer of the European Union, told reporters at a voting center at a school in Lagos Island.
'Higher Interests'
"The turnout is lower," Fisas said. "They thought that the presidential elections were more important. In a way that's a mistake because the governors are closer to the people."
In Rivers state, seven people were killed in election-related violence, the Situation Room, a coalition of vote monitors, said in posts on its Twitter account. The monitor group also said an Independent National Electoral Commission office in the town of Buguma was attacked with dynamite, with additional violence reported in Lagos, Delta, Ebonyi, Katsina and Akwa Ibom states. A Rivers state police spokesman said they're investigating.
"These killings form part of a wider pattern of politically-motivated violence, arson, and hijacking of electoral materials that our observers have noted," the group said in an e-mailed statement. "The resort to violence may not be unrelated to the higher interests at stake in these state-level elections."
In the southwestern city of Lagos, the commercial capital, where the APC and the PDP are in a keen contest, turnout was large in some areas and subdued in others. Accreditation using electronic voter-card readers went smoothly at the Karimu Alabi voting center in the Ifako-Ijaiye district of the city though there was a large number of people, according to Dupe Olajide, a presiding officer.
Kogi Thugs
The central state of Kogi saw some "thugs" try to snatch ballot boxes, police spokesman Sola Collins Adebayo said by phone from the city of Lokoja. The police got the boxes back, he said.
The APC is seeking to win in the northern PDP-governed states of Adamawa, Bauchi, Gombe, Jigawa, Kaduna and Katsina, said party spokesman Lai Mohammed, while retaining its hold on Lagos state.
"Having control of the federal and the key economic capitals will only further consolidate and make easier the economic growth of the country," Mohammed said by phone.
Lagos, an APC stronghold that has been governed by key party leaders Bola Tinubu and Babatunde Fashola since the return to democracy, handed the APC a victory in the presidential vote, with Buhari beating Jonathan by 160,133 votes out of a total of nearly 1.5 million cast.
Fighting Hard
In the PDP's bid to rebuild, it's fighting hard to make gains in Lagos. If the party can take control of economically important states it would allow them to pose a strong threat during Buhari's four-year term and position the party to take back power in 2019, according to PDP spokesman Olisa Metuh.
Most states get the bulk of their money from oil-income distributions from the federal government, which has an annual gross revenue of about $70 billion. At stake for the governorship contenders is the power to dispense and receive such cash and patronage.
States control about 50 percent of government spending in Nigeria, according to BudgIT, a Lagos-based organization that works to bring transparency to public spending in Nigeria. That revenue has dwindled as Africa's largest oil producer has suffered from a 50 percent drop in Brent crude prices since a peak last year in June. The naira has fallen 16 percent in the past six months against the dollar.
Before it's here, it's on the Bloomberg Terminal.
LEARN MORE