Kenya Boosts Security After Al-Qaeda Attack on University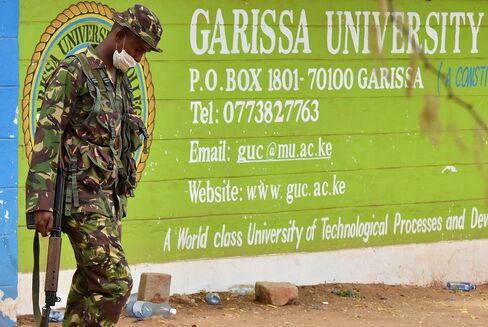 Kenya's Interior Ministry said it's boosting security measures in the country's major cities after last week's Islamist militant attack on a northeastern university that left at least 147 people dead.
An "increased security presence" in the capital of Nairobi and Mombasa, home to East Africa's biggest port, is "partly in response" to the raid on Garissa University College claimed by Somalia-based al-Shabaab, which is affiliated to al-Qaeda, ministry spokesman Mwenda Njoka said by phone on Friday.
Extra steps are being taken at "installations that we think are vulnerable," Njoka said. "Generally it's a requirement that security forces remain vigilant and on high alert."
The deadliest attack on the East African nation since al-Qaeda bombed the U.S. Embassy almost 17 years ago has shaken a city still recovering from al-Shabaab's 2013 assault on Westgate, an upscale shopping mall. That attack left at least 67 people dead and spurred government pledges to bolster security. Further violence in Kenya's northeast, including the slaughter of 28 bus passengers in Mandera county in November, have fueled accusations those vows aren't being fulfilled.
In Nairobi's central business district on Thursday, armed officers were deployed outside key hotels and businesses and police-trucks patrolled the streets.
"What we are currently witnessing is a knee-jerk reaction -- it is likely to stick around for a week or so," al-Amin Kimathi, a human-rights campaigner, said of the new measures.
Deployment Boost
A boost in police deployment "is witnessed every time there is an attack," he said by phone. "It's a pattern that the government has perfected over time but it's not effective."
Al-Shabaab has waged an insurgency in neighboring Somalia since 2006 in a bid to impose Islamic law on the Horn of Africa nation. After Kenya deployed troops there in 2011 following attacks on tourists and aid workers, the group responded by intensifying cross-border attacks on sites including bars and churches.
Manoah Esipisu, a spokesman for President Uhuru Kenyatta, has defended the government's record on security and noted it had recently changed the leadership of the country's security agencies. In December, the president appointed Joseph Nkaissery as the new interior minister and replaced the head of the police.
"We have invested heavily in new gear and equipment," Esipisu said earlier this week. "We are also recruiting 10,000 security officers a year for the next five years. We are doing a lot in terms of leadership and capacity."
Tourism Earnings
Since the Westgate attack in September 2013, 515 people have been killed and 494 injured in militant attacks in Kenya, according to Bath, U.K.-based risk consultancy Verisk Maplecroft. The violence has scared off tourists who contribute more than $1 billion to Kenya's foreign-exchange earnings every year -- the second-largest source after tea exports.
As rifle-toting Kenyan police officers cruised the downtown streets, security guard Geoffrey Muhatia said not much has changed since the last time dozens of his countrymen were murdered by Islamist militants.
"After such incidents the police are on high alert like you can see on the streets at the moment," Muhatia said in an interview on Thursday. "Within a short time they forget what happened."
Before it's here, it's on the Bloomberg Terminal.
LEARN MORE