Tennis Star Nishikori Adds Golden Toilet to His Global Swag Pile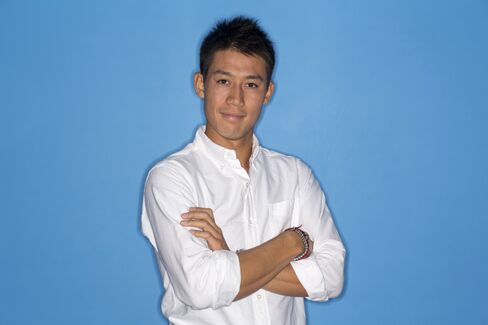 Kei Nishikori, the world No. 4 tennis pro who has a Jaguar sportscar named after him, has added a trophy-sized gold toilet to his collection of sponsor mementos.
Lixil Group Corp., which makes housing materials including lavatories, presented the 25-year-old Japanese with the gift to commemorate an endorsement deal at a media conference Friday in Tokyo. Financial details weren't provided.
The finalist at last year's U.S. Open already promotes Tag Heuer watches, Nissin cup noodles and Uniqlo, the casual wear label of billionaire Tadashi Yanai's Fast Retailing Co. Cash from endorsements comes on top of Nishikori's career total of $8.8 million in prize money, according to figures at the Association of Tennis Professionals' website.
"I've never seen a gold toilet," Nishikori said Friday, speaking by teleconference from Florida, where he is based. "This'll bring good fortune."
The Japan-born right-hander will play with Lixil's name on his tennis wear starting at the Barcelona Open Banc Sabadell, a clay-court tournament he won last year. The victory denied Spaniard Rafael Nadal a fourth straight championship.
Lixil's luxury toilets, like those made by larger rival Toto Ltd., have heated seats and bidet functions that are gaining a global following. The Nishikori endorsement comes as the company is trying to expand its presence outside Japan after buying the American Standard and Grohe brands.
"The goal from a young age has always been to build a platform that would establish Kei as an international Asian star that has the ability to transcend the sport," said Olivier van Lindonk, Nishikori's manager at IMG Worldwide Inc. "Kei has partnered with companies who are clearly looking to use Kei around the world and not just in Japan."
Lixil plans to almost double overseas sales to more than 1 trillion yen ($8.3 billion) in the year ending March 2021, from about 656 billion yen in the year ended March 31, Chief Executive Officer Yoshiaki Fujimori said March 31 at a news conference on the company's business strategy.
"Aggressive M&As would be vital to achieve the target," he said, without elaborating on potential targets.
The company also makes kitchens, faucets, tiles and curtain walls for commercial buildings including Tokyo's Mori Tower in Roppongi Hills, the Frank Gehry-designed Walt Disney Concert Hall in Los Angeles and the Royal Ontario Museum, according to the company's website.
Nishikori has also appeared in advertising for Jaguar Land Rover Ltd.'s F-type sportscar. The brand offered a special 15.3 million yen ($127,000) Kei Nishikori limited edition in Japan
Under the terms of the deal with Lixil, Nishikori will wear its logo in games and appear for promotional events.
Uniqlo has a five-year contract with Nishikori that started in 2011 and sees the company's name emblazoned on his tennis gear.
Nissin Foods Holdings Co., Japan's largest instant noodles maker, has used Nishikori in a TV commercial dressed as a samurai wielding a wooden sword like a tennis racket.
Before it's here, it's on the Bloomberg Terminal.
LEARN MORE