Jack Nicklaus's Ice Cream Shows Effect of Billionaire Investor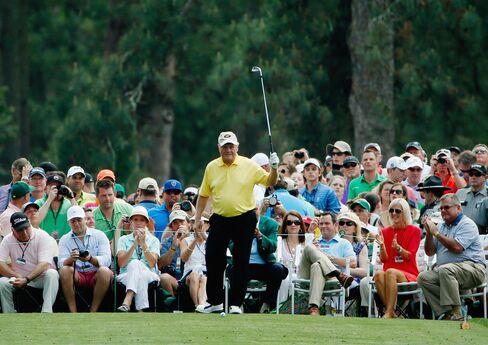 Jack Nicklaus started building his business and brand when his record-setting professional golf career began more than a half-century ago.
His company's revenue has more than doubled during the past eight years with the help of New York investor Howard Milstein, a diversified billionaire who's more golden touch than Golden Bear.
Milstein, 63, became co-chairman of Nicklaus Co. in 2007 when he bought 49 percent of the company for $145 million through the closely held New York Private Bank & Trust Corp., of which he's president and chief executive officer.
Nicklaus Co. has thrived since, licensing Nicklaus's name and likeness to products from lemonade and ice cream to clothing and golf balls. The record six-time Masters champion used the Nicklaus-brand ball to hit his ceremonial tee shot at the season's first major championship Thursday morning at Augusta National Golf Club in Georgia.
"The financial results have been terrific," Milstein said in an interview, saying revenue for the closely held company doubled without being specific. "There have been very few investments that anybody made in 2007 that have done as well as this one has done. On all scores, we're very pleased."
Nicklaus, 75, won a record 18 major championships, including his six green jackets at Augusta National, in becoming one of the most recognizable and charismatic figures in golf history. His Nicklaus Design company has built close to 400 golf courses in 39 countries around the world, with fees starting at about $2 million per property.
Family's Interests
Nicklaus, looking to his family's interests, wanted his business to thrive after he was no longer involved.
As he evaluated potential partners, the man nicknamed the "Golden Bear" said he discovered that most of those who were interested wanted to change the brand, capitalize on that change and "perhaps flip the company."
It was his impetus for initiating the partnership with Milstein, a former co-owner of the National Hockey League's New York Islanders and the scion of a family of New York City real estate investors. Milstein, Nicklaus said, was like-minded in how he approached the partnership, having already been a part of a successful family business.
"Howard and I share a core belief and desire to grow the brand, institutionalize the brand, establish or enhance something for our families, and create something we can pass on from generation to generation," said Nicklaus, who made a hole-in-one during the annual par-3 contest at the Masters on Wednesday. "Like me, Howard wants to make the Nicklaus brand and the company as successful as possible."
Milstein's Plan
Milstein's plan after buying in was to expand the licensing of Nicklaus's name in addition to growing the golf course design and real estate sector of the business.
When the economy in 2008 shelved most golf course projects in the U.S., Nicklaus Design looked overseas. Nicklaus now has 27 courses open for play in China, with another 19 under development, and has more design personnel in Asia than in the U.S. The umbrella Nicklaus Co. also took advantage of opportunities off the course that fit with the "basic DNA" of the company, Milstein said.
Nicklaus's business interests now include apparel (Perry Ellis International), shoes (Allen Edmonds), hats (Ahead USA), Golden Bear Lemonade (AriZona Beverage Co.), pens (Curtis Australia), sunglasses (PeakVision), and wines (Terlato). Other branded products include home appliances, flooring, golf academies and restaurants, including two Jack Nicklaus Golden Bear Grills being built this year at airports in Charleston, South Carolina, and Fort Lauderdale, Florida.
Latest Ventures
"It's a great business and it's now stronger than ever," Milstein said. "I think Jack enjoys it more than ever because a lot of the business side is taken care of and he can do the things that he loves, especially golf course design."
While most people work their whole lives so they can play golf when they retire, Nicklaus -- as he likes to say -- started working when he stopped playing golf. Among the latest ventures for Nicklaus is ice cream, announced in February through a partnership with the Schwan Food Co., a 60-year-old Minnesota-based manufacturer and marketer of frozen foods.
Nicklaus also introduced his own golf ball line designed to simplify the way consumers select the ball they play with; the only thing they need to know is which tees they hit from rather than swing speed or other in-depth data. A portion of proceeds - - from both the golf balls and ice cream -- support the Nicklaus Children's Health Care Foundation.
More partnerships are in the works, according to Milstein, who said Nicklaus Co. is finishing a deal with a major management company, planning to re-enter the equipment manufacturing business and working on agreements with other consumer products similar to that with Schwan's.
Year-to-date golf rounds played have increased 0.9 percent through March, according to Golf Datatech, which tracks the industry. Still, the golf industry is seeking a way to keep players from leaving the sport. About 1 million golfers have quit the game since 2009, according to the National Golf Foundation. In 2013 alone, about 600,000 (2.4 percent) of the sport's 25.3 million golfers left the game, according to the NGF.
"You hear these dire predictions about the sport of golf shrinking," Milstein said. "The part of the golf world that we participate in, which is kind of the higher demographic, is doing nothing but expanding. The people in that demographic are spending more on golf and more time on golf."
Before it's here, it's on the Bloomberg Terminal.
LEARN MORE