Fox, News Corp Said in Talks for World Trade Center Move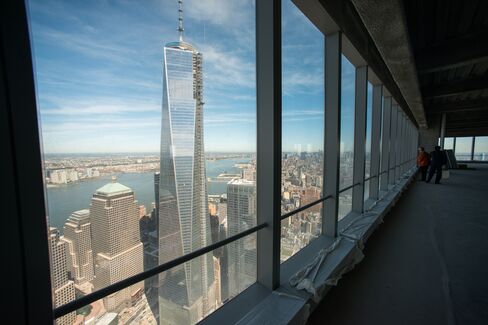 21st Century Fox Inc. and News Corp. are in discussions with developer Larry Silverstein for a move to the last skyscraper to be built at lower Manhattan's World Trade Center site, said two people with knowledge of the matter.
The companies are in discussions to occupy about half of 2 World Trade Center, said one of the people, who asked not to be named because the negotiations are private. They are currently based at 1211 Avenue of the Americas in Midtown.
Landing Rupert Murdoch's Fox and News Corp. would be a coup for Silverstein after he fought for more than 13 years to rebuild trade center offices. He leased buildings at the site for 99 years just six weeks before they were destroyed in the Sept. 11, 2001, terrorist attacks.
"21st Century Fox and News Corp. are each exploring options for their New York headquarters and the process is ongoing," Nathaniel Brown, a Fox spokesman, said in an e-mailed statement. Bud Perrone, a Silverstein spokesman, said he couldn't comment on the talks, which were reported earlier Friday by the New York Times.
Fox, the owner of Fox News, FX and a broadcast network, along with a Hollywood film and TV studio, was spun off from News Corp. in 2013. News Corp. owns publications including the Wall Street Journal and the New York Post.
The companies want the design of the 2 World Trade Center tower to be adjusted to accommodate television studios, the New York Times reported.
The skyscraper, designed by British architect Norman Foster, is planned to have 2.8 million square feet (260,000 square meters) of office space. It is the only skyscraper planned for the site that isn't rising. Silverstein's 4 World Trade Center opened in 2013, while his 3 World Trade Center is being built. Another of his buildings, 7 World Trade Center, opened in 2006.
The nearby 1 World Trade Center, the tallest building in the western hemisphere, is owned by the Port Authority of New York and New Jersey and the Durst Organization.
Before it's here, it's on the Bloomberg Terminal.
LEARN MORE