Folk Singer Tames Her Mental Illness to Rise Again: A Day's Work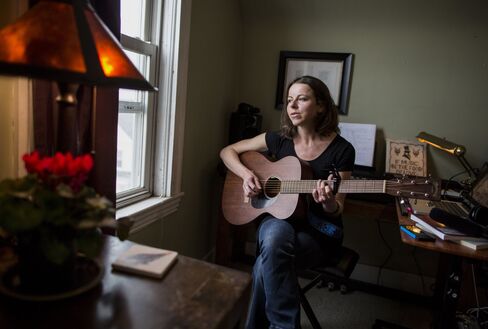 Months before her mental illness took over and steered her toward suicide, folk singer and songwriter Meg Hutchinson was in line at her favorite coffee shop to order a latte. A man approached. He was serious, official-looking in suit and Bluetooth.
"I'm a fan," he said.
The stranger had seen her in concert. He loved her music and he said he worked for the FBI. She was flattered. Her songs are emotional, personal. They draw a loyal audience. But an FBI agent? That was surprising. There was something else. Hutchinson had been reading a biography of Ernest Hemingway that outlined his paranoia with law enforcement, the FBI included.
The coffee-shop encounter in Somerville, Massachusetts, lasted minutes; her anxiety about whether the moment was real or imagined would linger for years. She'd soon leave to tour Europe and her illness would worsen. She had shifted through big highs and lows before, never really acknowledging what was going on in her head. This was a whole new level.
Making a living as a folk singer is difficult enough. Mental illness makes everything that much harder. People with bipolar disorder can have their condition well controlled with medications and can often work at very high levels, said D.J. Jaffe, who runs the website Mental Illness Policy.org. But for many years, Hutchinson struggled before her eventual diagnosis.
She's put out seven solo compact discs and performs regularly. She supplements that by speaking to college groups about mental illness for a total income of $3,000 a month.
More Compassionate
Hutchinson is so open about her illness because she wants people to know a majority like her lead normal lives. Instead of the monsters the media often depict, she said, "they simply end up becoming far more compassionate for other people's suffering."
At 36, she has the lean frame of a hiker and a pretty pixie-like quality to her face. She practices yoga and meditates. And more than the cold-brew coffee and coconut milk concoction she drinks, she is propelled by an insatiable curiosity about nature, spellbound by the quiet it creates.
Growing up in the small rural town of South Egremont in western Massachusetts set her course.
"I was the kid in class staring out the window," wandering the Berkshires, soaking in the woods, water and the poetry of it all. She wrote and performed her first song in the eighth grade and burst out crying when it was over -- tears for discovering so early what she wanted to do.
'So Much Pain'
Her illness showed up in 1997 at age 19. It became so acute during her Europe trip in that summer of 2006 that she returned to the U.S. and went back home to her divorced parents and two sisters who plied food and warm baths, remedies from the heart.
Hutchinson wasn't getting better. She was admitted to a local hospital for three days. When she got out, she tried to kill herself by wading into a pond her mother had always warned contained quicksand.
"All I was thinking about was how to die, I was in so much pain," she recalled.
There was no quicksand. She was hospitalized twice more after that, checking herself in the last time. She obsessed over the meeting with the FBI agent. Had she conflated the encounter with her reading of Hemingway's paranoia? Hemingway had killed himself. Would that be her fate?
Slowly she recovered. The mood stabilizer she began taking still works today.
Love And Loss
The illness has given her "more colors to paint with," she says. But Meg songs, as fans call them, are built on observation and a deep dive into the reality of love and loss.
She says her job is to "transform something really difficult into something beautiful." The gentle melodies notwithstanding, her vocabulary around her craft is that of the carpenter and stonemason. She says her compositions are "weight-bearing," "useful" and they "do work" for her and her audience.
"Home," on her fifth solo compact disc, tells of leaving the hospital after her breakdown and "sleeping in my own bed again." When she needs a shot of courage, she sings the verses to herself.
Her workspace is a bedroom-turned-studio in the apartment she shares with a roommate and Austin, a 75-pound pit bull who was rescued after enduring unspeakable abuse. A Casio keyboard sits in one corner. A small closet is on the opposite side, its inside walls covered in gray acoustic foam so she can close the door and record her voice in the dark.
Working at Night
She works mostly at night, the wee hours that quiet all but the song. She moves her fingers down the keyboard, presses on floor pedals and practices a refrain into her smartphone until it works. Words just right are her birthright, she says.
One grandfather was a book editor whose life merited a New York Times obituary, the other a writer and historian. Her father is an English professor who loves New England's Transcendentalists. Her mother has written a poem each morning for a decade and Hutchinson has self-published a book of poems with another on the way.
Months after her recovery in 2006, she went on a work spree, performing 137 shows across the U.S. in a year, trying to prove she had conquered what ailed her. A year later, she met Lama Migmar Tseten, a Buddhist chaplain at Harvard University. She attends his weekly class, which is unrelated to the university. Lama, as she calls him, showed her the value of slowing down.
The last three years have been her healthiest. And just two weeks ago, she took another step, when she found a message on her laptop from a man describing himself in federal law enforcement.
He wanted her to see a poem his daughter had written as a young girl. It's about her watching him come home from his travels. He'd always thought it would make a good Meg song.
"Any chance I bumped into you in 2006 in a coffee shop?" she wrote back.
Yes! And, yes, he works for the FBI. Hutchinson had her validation.
"When I was diagnosed I became terrified that no one would trust me," she said. "The FBI agent, not only being real, but trusting me with his daughter's poem healed that."
Before it's here, it's on the Bloomberg Terminal.
LEARN MORE