Five Things Everyone Will Be Talking About Today
Time to get caught up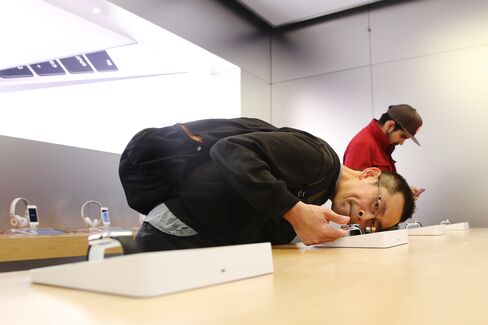 Japanese stocks hit a 15-year high, the French 5-year note yield drops below zero and the Apple Watch arrives without much of a crowd. Here are some of the things that people will be talking about today.
The Nikkei 225 pops through 20k
At one point in today's trading session the Nikkei 225 Stock Average broke through 20,000 points for the first time in some 15 years. The index just needs to notch on another 19,008 points to equal the all-time high hit way back in 1989.
French 5-year note yield drops below zero
Desensitized to headlines in the European bond market? Here's another one for you anyway: The yield on the French 5-year note broke down into negative territory this morning for the first time ever. The epic rally in the European sovereign debt market continues.
Central banks are dumping euros
Central banks cut their holdings of the single currency by the most on record last year. The ECB's stimulus may well be driving equity markets to record highs and bond yields to record lows but it may also be undermining the euro's position as a global reserve currency.
Deutsche Bank nears $1.5 billion settlement
Deutsche Bank, Germany's biggest lender, is said to be close to resolving a probe by U.S. and U.K. authorities into interest-rate manipulation.
Apple Watch arrives without the crowd
You know the line around the corner from the Apple store whenever they debut a product? Well when Apple launched their new watch today only 14 people in Beijing lined up outside to get a first look.
Before it's here, it's on the Bloomberg Terminal.
LEARN MORE