Fed's Lacker Favors June Liftoff Even as Recent Data Weak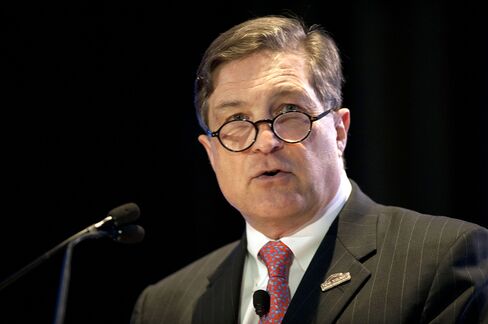 Federal Reserve Bank of Richmond President Jeffrey Lacker said he continues to favor a first interest rate increase in June because recent soft readings on the economy will probably prove temporary.
"Readings on some indicators have been unexpectedly weak in recent weeks, some of which may be attributable to unseasonably adverse weather," Lacker, who votes on monetary policy this year, said Friday in Sarasota, Florida. "It's too soon to say how much, however, and the more prudent approach is to look through very short-term fluctuations."
The Federal Open Market Committee was split at its meeting last month on when to begin raising rates from near zero. Several participants wanted to normalize policy starting in June, while others favored later in the year, according to minutes of the March 17-18 gathering released on Wednesday.
"It was a pretty substantial amount in my recollection," Lacker told reporters after the speech, in response to a question about what "several" meant in the minutes.
Roberto Perli, a former Fed economist who is now a partner at Conerstone Macro LLC in Washington, told clients in a note last year that when the FOMC minutes refer to "several" officials, it should be interpreted as meaning around half.
A background note by the Fed in 2005 on how to decode the minutes ranked the use of common quantitative wording -- all, most, many, several, few, or one -- but gave no details.
Strong Case
"I expect that, unless incoming economic reports diverge substantially from projections, the case for raising rates will remain strong at the June meeting," Lacker said to an event hosted by the Global Interdependence Center and the Financial Planning Association of the Suncoast. The comments were similar to a speech he gave on March 31.
Expectations for the first increase have been pushed back. A majority of economists in an April 3-9 Bloomberg survey forecast the first rate rise at the Fed's September meeting. In two surveys conducted in March, a plurality of economists said the first increase would come at the Fed's June meeting.
In March, the FOMC dropped a pledge to be "patient" as it considered the first rate rise since 2006, while also reducing forecasts for the path of increases. Fed Chair Janet Yellen has since said borrowing costs would probably be raised gradually, and a weak payrolls report released last week has added to caution among officials.
Payrolls climbed by 126,000 in March, falling well short of expectations and breaking a yearlong string of monthly gains exceeding 200,000, a Labor Department report on April 3 showed.
Languishing Inflation
Even so, Lacker said he was confident inflation would return to the Fed's target over time. Prices as measured by the Fed's preferred gauge rose just 0.3 percent in February from a year earlier, and inflation has languished below the central bank's 2 percent goal for 34 straight months.
He also played down the risks of raising rates prematurely, arguing it would be no "humiliation" if the Fed increased borrowing costs and was then forced to backtrack if the economy then faltered.
"If we were to raise rates and then subsequently reduce them to zero, it might be unexpected. Presumably we are setting rates where we think they ought to be. I don't see that as problematic," Lacker told reporters.
Lacker has led the Richmond Fed since 2004 and previously served as its research director. The Richmond Fed district includes Virginia, Maryland, the Carolinas, the District of Columbia and most of West Virginia.
Before it's here, it's on the Bloomberg Terminal.
LEARN MORE