Fed Heeds Wall Street's Warning on Where Next Crisis May Come From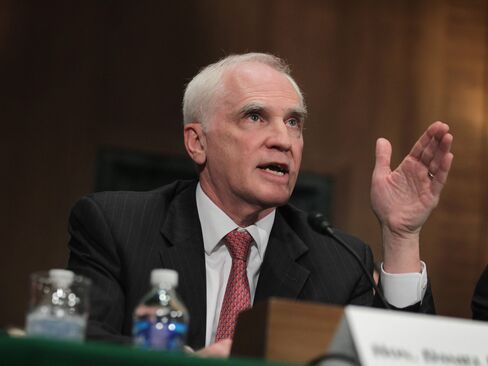 JPMorgan Chase & Co. and BlackRock Inc. have argued for years that a key response to the last financial crisis could help fuel the next one. Global regulators are starting to heed their warnings.
At issue is the role of clearinghouses -- platforms that regulators turned to following the 2008 meltdown to shed more light on the $700 trillion swaps market. A pivotal goal was ensuring that losses at one bank don't imperil a wide swath of companies, and the broader economy.
Now, Federal Reserve Governor Daniel Tarullo is quizzing Wall Street after big lenders and asset managers said clearinghouses pose their own threats, said three people with knowledge of the discussions who weren't authorized to speak publicly. Among the concerns raised by financial firms: Relying on clearinghouses shifts risk to just a handful of entities, and the collapse of one could lead to uncapped losses for banks.
"You've concentrated the point of failure," Thomas Hoenig, the vice chairman of the Federal Deposit Insurance Corp., said in an April 1 interview. His agency is responsible for winding down failed financial firms.
'Sufficient Safeguards'
Swaps trading -- when it was largely unregulated -- amplified the meltdown seven years ago and prompted a $182 billion U.S. rescue of American International Group Inc. The recent government scrutiny comes as more derivatives trades than ever are guaranteed at central clearinghouses.
"There must be sufficient financial safeguards and resources to minimize the threat of failure under market stress," Sandie O'Connor, chief regulatory affairs officer at JPMorgan, is slated to say Friday in remarks at a Federal Reserve Bank of Chicago conference on clearinghouses.
Barbara Novick, a vice chairman and co-founder of BlackRock, said in an interview that a clearinghouse's ability to withstand a future crisis or be wound down is her "No. 1 systemic risk issue." BlackRock is the world's largest asset manager.
Spokesmen for the Fed and other regulators declined to comment.
Banks deposit collateral at clearinghouses to protect against defaults, while clearinghouses also contribute some of their own capital. If both of those funding sources are exhausted in a time of stress, a clearinghouse could then require banks and other members to pick up the tab.
More Capital
After the crisis, U.S., European and Asian authorities required that most derivatives be guaranteed at clearinghouses instead of allowing risks to mount directly -- and unseen -- between traders. That move increased the role of platforms owned by CME Group Inc., Intercontinental Exchange Inc. and LCH.Clearnet Group Ltd., where traders clear swaps tied to interest rates, bonds and other assets.
While it's unlikely that global regulators will back away from mandating the use of clearinghouses, the current review could lead to new policies.
JPMorgan published a September paper calling on clearinghouses to put more of their own capital aside as a cushion against massive losses. The bank also said the entities shouldn't rely so heavily on levies from members.
The Clearing House Association, which represents Wall Street banks, not derivatives clearinghouses, has led an intense lobbying effort in Washington.
For more than two years, the trade group has been pressuring regulators -- including during visits in recent weeks to the Office of the Comptroller of the Currency and the Treasury Department, according to public records and people with knowledge of the matter. JPMorgan, Goldman Sachs Group Inc. and HSBC Holdings Plc executives attended at least one of the meetings.
Self-Serving Arguments
Clearinghouses counter that many of the issues raised by lenders are self-serving. In a March 9 letter to Treasury Secretary Jacob J. Lew, CME and ICE wrote that banks are pushing "narrow topics of interest."
Unlike banks, clearinghouses aren't "risk-taking institutions," so it's unnecessary to dictate how much capital they should set aside for a potential default, according to the letter, which also was signed by the Depository Trust and Clearing Corp. and the Options Clearing Corp. The companies sent the note to Lew because he leads the Financial Stability Oversight Council, a panel of U.S. regulators set up to sniff out threats to the economy.
The concerns cited by banks aren't completely abstract. Two years ago, the default of a South Korean securities firm forced the local exchange to tap an emergency fund. The situation led to the surviving clearing members losing some of their default-fund contributions, Mark Wetjen, a commissioner at the U.S. Commodity Futures Trading Commission, said in a 2014 speech.
Reassigned Staff
Regulators began to step up their scrutiny late last year. The Fed has reassigned staff internally to bolster oversight of clearinghouses and appointed a new deputy director, Matthew Eichner, whose responsibilities include monitoring potential dangers posed by the entities. The OCC, which regulates some of the largest banks that deal in swaps, is considering new measures to make sure lenders adequately manage their exposures, said a person with knowledge of the matter.
Tarullo, the Fed's point man on financial regulation and oversight, has publicly conceded that it's hard for banks to determine their own market risks if they can't evaluate how badly they would be hit by the failure of a clearinghouse. It's "worth considering" whether clearinghouses have enough funds to handle major defaults, he said in a Jan. 30 speech.
Before it's here, it's on the Bloomberg Terminal.
LEARN MORE